Credit: www.clintonglobalinitiative.org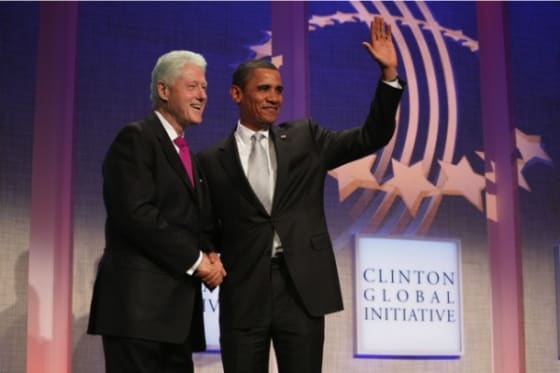 President Obama and Mitt Romney are crossing the political aisle to participate in the annual Clinton Global Initiative meeting. CGI, founded by former President Bill Clinton, brings together some of the most influential international leaders to discuss solutions to the world's most pressing challenges.
This year's event will be held from September 23-25 in New York City with the theme "Designing for Impact". According to a CGI press release,"the theme will examine how the Commitments to Action that CGI members make can be structured to achieve the most positive, measurable results". Topics for the meeting's three-day agenda include global challenges such as the environment, energy, health, education and workforce development.
Clinton successfully brought together presidential candidates John McCain and Barack Obama for the 2008 meeting along with many other world leaders. Obama has attended the past four years he has been in office and will be joined by Mitt Romney this year.
"I'm grateful that President Obama and Governor Romney are taking time to join leaders from all parts of society who choose to address our greatest global challenges through the Clinton Global Initiative," said Clinton in a press release . "CGI is built on the spirit of non-partisan, cross-sector collaborations that drive action and I'm proud that, since we began in 2005, CGI members have made more than 2,100 commitments that are already improving the lives of 400 million people all over the world."
Pressing pause on their campaigns, Romney is set to lead a panel on ways to redesign the global food production system and Obama will discuss how banks and other financial institutions can help the world's poor. In the spirit of collaboration facilitated by the initiative, the two candidates will  put partisan differences aside to address the biggest issues worldwide.
Although Clinton has expressed his ardent support of Obama, he is trying to keep his initiative bipartisan. Romney appeared on Meet the Press Monday and showed respect for the former president. He stated that Clinton, "really did elevate the Democrat convention in a lot of ways."
According to the CGI website, the meetings aim to build lasting partnerships that enable the attendees to create positive social change around the globe no matter what their affiliations. Each member creates a Commitment to Action plan to address a major global challenge. This commitment is a concrete way to translate the goals of the meeting to real world results. The commitments have touched over 180 countries since 2005 and the initiative hopes to continue crossing cultural and political lines.