Credit: commons.wikimedia.org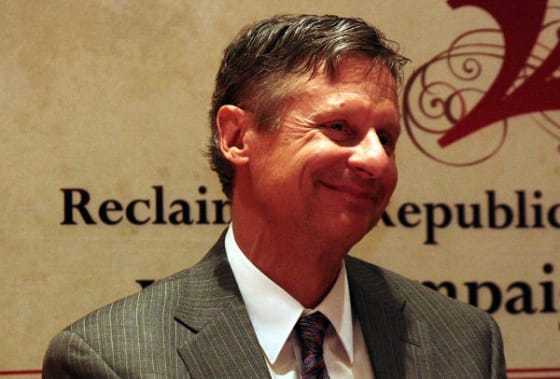 Governor Gary Johnson's recent Reddit AMA (Ask Me Anything), demonstrates how his use of social media is effective in gaining support. As the Libertarian candidate for President, money for the campaign is hard to come by. Holding social media events and engaging supporters is a strong-point for the two-term New Mexico governor and will probably drive his campaign through the year.
Governor Johnson is a heavy user of Google Plus. With social media tools intertwined, he also promoted the AMA through Twitter and Google Plus. He is consistent on posting and sharing on Google's social networking site. In his recent campaign stops during the Democratic National Convention, he uploaded personal pictures. He spoke at Winthrop University in South Carolina and posted this during his speech:
Credit: Gary Johnson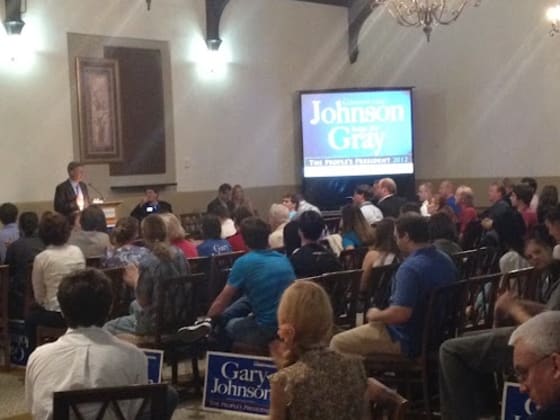 I asked Natalie Dicou, the Johnson campaign's media relations specialist, about the effectiveness of Johnson's activity on Google Plus. She responded:
We are obviously active on a number of social media outlets, and have found Google+ to be outstanding.  Our followers are very active, and it has a great reach.  We depend upon it heavily to communicate with our supporters.
Social media lends itself well to third-party candidates looking for grassroots organization. It's not just the candidates themselves gathering support through social media. Supporters play a large role in the spreading the message, Gov. Johnson recognizes this and advocates it. When asked on how his supporters can get him to 15% in polls to enter debates, he answered with, "BLOG BLOG BLOG". Another Redditor asked what they can do to ensure his message is heard this election, he replied, "BLOG AWAY".
Continuing with the grassroots theme, someone acknowledged that an obstacle for the Johnson campaign is that voters don't know who he is. The question that followed was on the best way to organize a local rally. Gov. Johnson answered, "blogging and social media".
Gov. Johnson responded through e-mail about his experience with Reddit and the AMA:
Today's AMA was great.  I always enjoy opportunities to interact directly with folks online, and Reddit is an excellent platform for doing so.
When asked how he would work with Congress to pass his policy proposals if he was President of the United States,  Governor Johnson replied:
I'm kind of excited about the prospect of coming at Democrats hard from the left, and coming at Republicans hard from the right. Challenge them both to be good at what they are supposed to be good at.
The Ask Me Anything event took place on Tuesday, September 11th at 3pm ET. IVN's Jane Susskind compiled the questions that Governor Johnson decided to answer on a live blog from the AMA.
As a third-party candidate, funding is not a strength when running a campaign. Social media is a means of cost-effective campaigning where potential voters have a chance to interact directly with politicians. Accounts on social media websites are free, but are only as effective as the account owner. Gov. Johnson's current social media attraction:
Google Plus followers: 1,045,242
Twitter followers: 58,985
Facebook followers: 240,873
As of July 31st, the Johnson campaign raised $1,482,993 and spent $1,468,728, taken from opensecrets.org. In the same time frame, President Barack Obama raised and spent Johnson's amount around 300 fold. Republican candidate Mitt Romney was at about 200 fold Johnson's amount. The Gary Johnson social media campaign will aim to grow and hopes to peak at the right time.