Credit: Tom Smart / Deseret News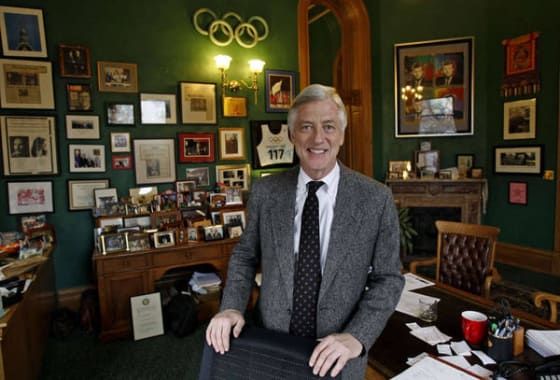 Justice Party candidate Rocky Anderson aims to reform not win. His presidential campaign currently has ballot access in eleven states, with write-in votes permitted in fifteen more, according to his campaign website Vote Rocky.
A former Democratic mayor of Salt Lake City UT, Anderson leans left. However he opposes the bipartisan "corporate-controlled" system. The Justice Party website states: "We seek to return political power to the people through fair and transparent elections, campaign finance reform, proportional representation, and Constitutional amendment."
When Salt Lake City paper Deseret News asked him if he thought he could win the election he realistically responded:  "Not a prayer." His presidential run is in part a way to draw attention to human rights issues that his foundation, High Road for Human Rights, focuses on. He hopes to gain national attention and support for human rights by running for office. "A political party makes more sense," he told Deseret News. "It's the same message , and this way we're reaching tens of thousands of people each week."
Anderson's background led to his focus on justice throughout the years. A Utahn born and raised, Anderson grew up with a hardworking father as a role model. His father worked his way up through the lumber business, eventually becoming president of Anderson Lumber Company. According to Anderson's biography, after college he worked odd jobs across the U.S. and southern Europe while trying to decide what he wanted to do with the rest of his life and staying in touch with the working class.
Law was his next step for Anderson and he became a lawyer. According to his campaign site, "he worked with many of the leading lawyers in Salt Lake City, and his practice evolved to his association as president of the law firm of Anderson & Karrenberg."
He moved from law to become a public servant and served two terms as mayor of Salt Lake City. Anderson then founded High Road for Human Rights. According to the foundation, the non-profit primarily addresses five issues: "torture and the undermining of the rule of law, genocide, slavery, the death penalty, and the human rights implications of the climate crisis."
He left the Democratic Party in April of 2011. "The Constitution has been eviscerated while Democrats have stood by with nary a whimper," Anderson announced. "It is a gutless, unprincipled party, bought and paid for by the same interests that buy and pay for the Republican Party."
Anderson addressed a rally in April, asking others to follow his call for reform. "Equality and justice are not just catch phrases. Equality and justice must continue to define what our nation stands for and what we, the American people, will continue to fight for," he said. "It is up to each and all of us, standing and fighting tenaciously, together. Let us stand tall and stand proud – and fight for the rights and liberties of all, united in our purpose."