As heavily focused on in this past month, the role of Social Media in the RNC has been both praised and criticized. The idea of a "Convention Without Walls" signified a huge step in technology radically changing how politics is promoted. The implications of this new kind of coverage, from live-streaming to Google hangouts, has proven new territory taken on by the GOP. As the close of the RNC has passed, so raises the question of how the GOP's social media strategy actually panned out.
In a partnership between PBS and BuzzMgr, the "MediaShift" blog says,
The ConventionBuzz daily infographics are a snapshot of social media conversations surrounding the key people, issues and events associated with the national political conventions.
Here are some highlights around the social media buzz during the RNC. Here we highlight the summary of social media buzz on the first and last day of the RNC. More information on the methodology of how they determined what was social media "buzz" and the rest of the daily infographics (Day 2 and 3) can be seen here.
Some main points? In terms of sentiments and how people feel about the convention, after the first day, 57.4% felt negatively about the convention while by the conclusion of the RNC, the number decreased to 53.2%. Sentiments about the convention overall increased in positivity going from 12% positivity on Day 1 to 40.5% positivity. Top topics discussed changed from Ron Paul on Day 1, to Mitt Romney on the last day of the convention. Clint Eastwood comes in a close second though for top topics, with his act of talking to a chair.
Created by www.Buzzmgr.com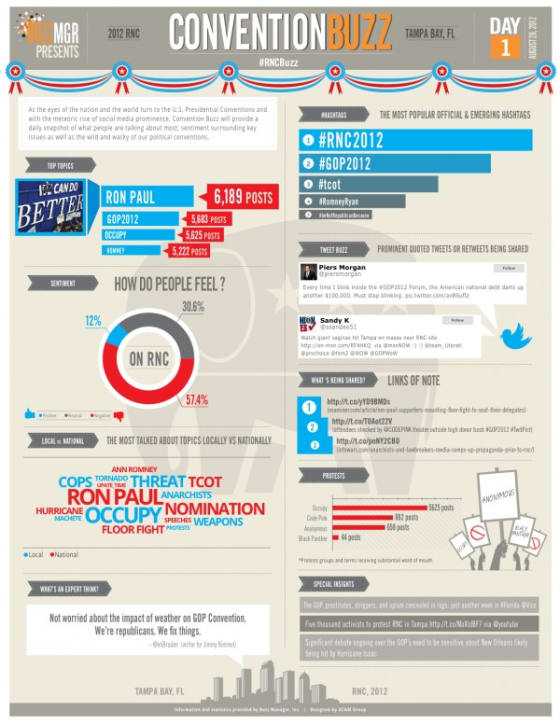 Created by www.Buzzmgr.com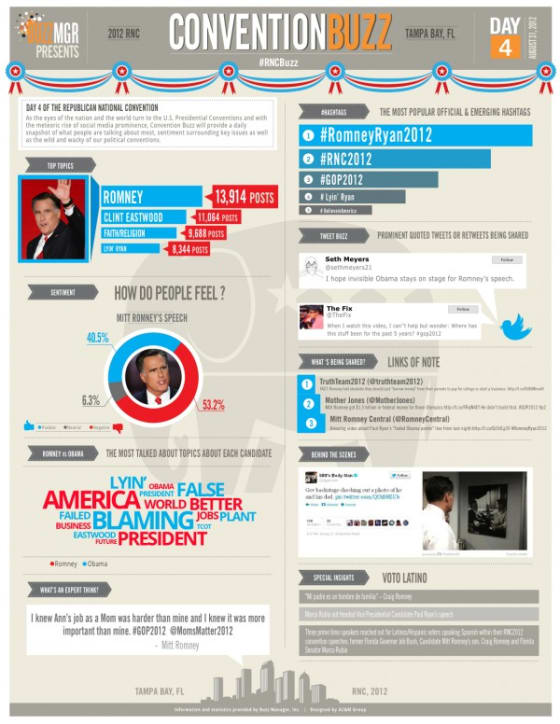 The 2012 Republican National Convention marks the role of  technology and its growing relevance in politics. Its utilization in terms of social media have revolutionized political events such as the national conventions and its presence will only increase in the coming months.