Image from talkingpointsmemo.com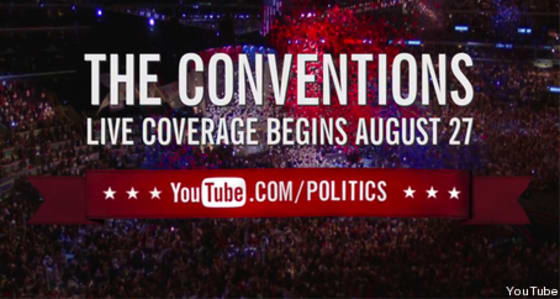 There is no question of the skyrocketing popularity YouTube and its video platform has seen. Because of this, news through the medium of video has in many ways, been revolutionized. With growing distrust of popular and traditional news sources by Americans, the value of platforms like YouTube grows.
YouTube has picked up on this with their recent launch of their "Election Hub". The feed that is updated not just daily, but hourly to stay up to date with political happenings. Announced last Wednesday, Olivia Ma, YouTube's manager of politics and news, says, "We want to offer multiple perspectives on the story from a diverse slate of news organization — established names, new voices, international and Spanish language." Ma explains, "Voters can browse between different outlets and have a conversation about what they are watching." With this in mind, the page center includes videos from Wall Street Journal Live, Larry King, Al Jazeera, New York Times, Philip DeFranco, Univision, BuzzFeed, ABCNews, and their featured YouTube spotlight.
Possibly the coolest feature of the hub? You can watch live-streamed videos in real-time being broadcasted by the above sponsors. In many ways, this is monumental in that you no longer have to have cable much less television to be able to gain political news. In this way, political platforms are coming to viewers on their terms and through even more accessible means. Anyone can have a YouTube account and can follow regularly (granted they have regular access to internet). Gone are the days where you need to pay for a subscription or even create an account to access high production valued news.
The hub features a schedule on what will be live streamed in their YouTube spotlight of key videos to watch and also a red dot above the channels signifying that they are live now. Although the idea of live streaming videos isn't a particularly new development, the occurrence of it being done by major political platforms with their own notable reputation and following on YouTube is interesting. It is the occurrence of a happy hybrid between traditional media and social media.
Another appealing component to the "Election Hub" is its use of the Google + Hangouts. Utilizing the partnership (or rather ownership over YouTube by Google) the channel is  broadcasting live "hangouts" of interviews and discussions being held on mainstream news networks. The convenience of Google + Hangout is that it holds the possibility to make hangouts as structured or casual as the sponsors choose.
With over 25,000 subscribers and 865,000 total video views, the channel proves a popular and well used center for politicos. The aspects of the channel exemplify the changing phenomena of the way in which news is distributed. The creation and rise of platforms like this seems to perfectly reflect the social reaction to the increasing distrust of news media.
Be sure to stay updated on the "Elections 2012" tab for news and information on campaign happenings through video. The ground breaking live streaming of the national conventions will be done so with YouTube as its official sponsor.
Will you be utilizing YouTube for your political news?