Credit: mondoweiss.net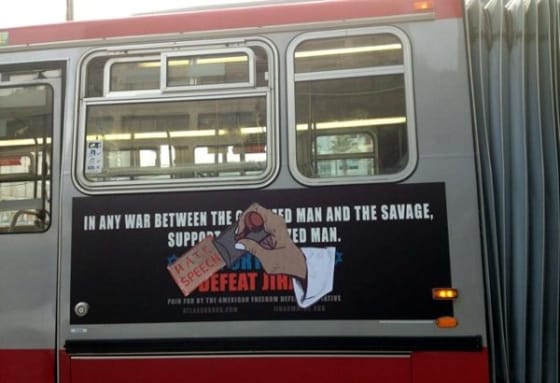 If religious freedom is part of the essential American DNA, then why do Americans sometimes act as if it's OK to demonize religions, as witness recent anti-Islam bus ads?
Of course the question is rhetorical and the problem intractable, although as a culture we seem to have moved on from widespread Catholic-bashing and anti-Semitism, while still tolerating attacks on others, like Mormons and especially Muslims.
In a story that broke August 12 but not yet widely reported, the San Francisco Municipal Transportation Agency (MUNI) honored the right of free speech by renting space on the sides of its buses for an ad that caused almost immediate protest.
"In any war between the civilized man and the savage, support the civilized man." the ad begins in all capital letters, adding, "Support Israel, Defeat Jihad"
Beneath that, in smaller caps, the ad states that is was paid for by the American Freedom Defense Initiatives. On the AFDI website, Pamela Geller explains what was behind the ad: "The premise of my ad was that a war on innocent civilians is savage. As long as the Palestinian Authority continues its savage policy of fomenting violence, promoting hatred, and teaching Palestinian children to hate, the number of young Muslims willing to blow themselves up or to slit Israeli throats will continue to increase. That is savage. The Palestinian Authority propaganda of Holocaust-denial, calls for the killing of the Jews, and glorification of bloodthirsty jihadis is savage."
In response to the bus advertising, the Jewish Community Relations Council, the American Jewish Committee, and the Anti-Defamation League issued statements condemning the anti-Islam bus ads. The ADL press release said in part that the ad is "highly offensive and inflammatory," but added "it is clearly protected political speech under the First Amendment…. Pro-Israel doesn't mean anti-Muslim. And support for Israel is not built on bigoted anti-Muslim and anti-Arab stereotypes."
A public petition to MUNI to remove the ads has had little impact despite its roughly 1,500 signers. President Tom Nolan of the Transportation Board says the ads are offensive, but that pulling the ads now would be a breach of contract and possible First Amendment violation that could involve the city in an expensive lawsuit. His concerns are based on New York's experience with the same ads. New York's Metropolitan Transportation Authority (MTA) rejected the ads initially, but a federal court ordered the city to post them.
Nolan has not explained how MUNI's no-political-advertising policy did not apply to the controversial ads in the first place.
Faced with an apparent impasse in San Francisco, local artists are taking a more direct approach to the ads, literally labeling them as "hate speech." The anonymous artists have created a paste-on label showing a hand with a rubber stamp that's stamping the ad as "hate speech." The paste-on covers about half the ad's text.
But fear of violence by non-specific "jihadis" continues to be common across the country, some of it from members of Congress including Joe Walsh, Peter King, and Michelle Bachmann.
In a tape of a town hall meeting, Walsh (R-IL) said that Muslims are "trying to kill Americans every week" and predicted that another 9/11-like attack was going to occur, but he couldn't say when, adding: "All I can tell you about the 'when' is, the people who would want to do this to America are trying to get their hands on weapons that will make 9/11 look like child's play."
Peter King (R-NY), chairman of the Homeland Security Committee, held controversial hearings on Muslims in 2011, had previously accused American Muslims of refusing to cooperate in the war on terrorism. Saying, in effect, that they were un-American, King said: "when a war begins, we're all Americans. But in this case, this is not the situation. And whether it's pressure, whether it's cultural tradition, whatever, the fact is the Muslim community does not cooperate anywhere near to the extent that it should."
In July, Bachmann and others claimed that Secretary of State Hilary Clinton's chief of staff was secretly infiltrating the U.S. government for the Muslim Brotherhood and called for an investigation.  Sen. John McCain (R-AZ) took to the floor of the Senate to denounce her accusation. Bachmann also accused Congressman Keith Ellison (D-MN) with being associated with the Muslim Brotherhood. Ellison, the first Muslim ever elected to Congress, denied the charge.
Others involved in accusing Muslims include the co-signers of Bachman's letter about the Secretary of State's chief of staff, Congressmen Trent Franks (R-AZ), Louie Gohmert (R-TX), Tom Rooney (R-FL) and Lynn Westmoreland (R-GA). House Speaker John Boehner (R-OH) and others have called this unwise, a witch hunt, or McCarthyism.
By contrast, actual attacks on Muslims or people thought to be Muslim, or on Muslim property in the U.S. have increased. At least seven mosques and one Muslim cemetery have been attacked during this year's month of Ramadan, which ended August 18.