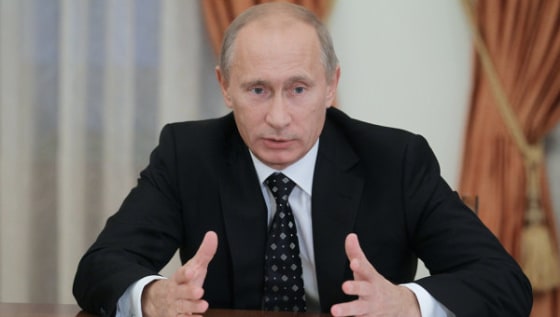 Name: Vladimir Putin
Age: 59
Title: President of Russia
Inauguration Date: May 7, 2012
Term Length: Six years per term; up to two consecutive terms
Party: United Russia
The trial and sentencing of an all-female Russian punk band called Pussy Riot has made international headlines as high-profile musicians have called for their release. At an appearance at the London Olympic Games, Russian President Vladimir Putin said he hoped they wouldn't be sentenced "too harshly". But the group was protesting his own third term as president.
Putin joined the administration of President Boris Yeltsin early in his political career and quickly rose through the ranks. He served as president for two terms from 2000-2008, and assumed office once again in May. He is perceived as being in control of the state since 1999, in addition to his terms as president, he has served twice a prime minister. Wide spread protests alleging election fraud has rocked Russia since December. Following Putin's inauguration, more spring protests have been held in Moscow.
President Bush famously said of Putin, in 2001:
I looked the man in the eye. I found him to be very straight forward and trustworthy and we had a very good dialogue. I was able to get a sense of his soul. He's a man deeply committed to his country and the best interests of his country and I appreciate very much the frank dialogue and that's the beginning of a very constructive relationship.
He's also an interesting figure, known for "Putinisms" like his famous response to a Russian submarine tragedy on Larry King Live. When asked what happened, the president dryly said, "She sank." Putin is a former member of the KGB, a skilled martial artist and was Time magazine's Person of the Year in 2007. He is married with two grown daughters, but they are nearly never seen in public. He has two dogs, Koni and Buffy.
Putin enjoys many personal hobbies, which can be seen here: 50 Pictures of Vladimir Putin Looking Like a Complete Badass.