Photo: Joe Wrinn / Harvard University News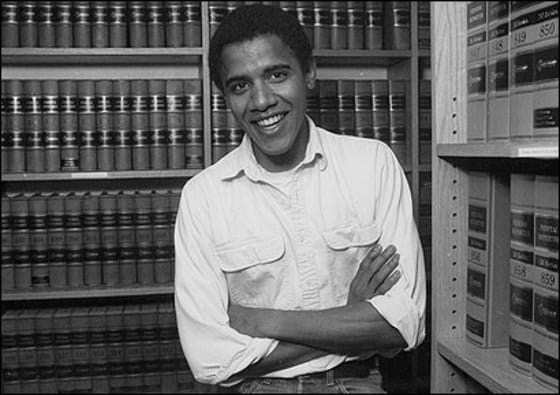 There are many factors prospective voters take into account when deciding among candidates. What are their policies? What is their experience in government? Are they a charismatic leader? Will they be knowledgeable in all aspects of the job? Voters ask these questions in an effort to ascertain how competent the candidate will be in office.
One means of judging a candidate's capability is to analyze their educational background. For the most part voters do not possess the knowledge to use educational background to judge the candidates. Professor John McNulty of Binghamton University estimates: "A small minority of the populace could even name President Obama's alma mater." (Columbia University undergraduate and Juris Doctor from Harvard law)
Furthermore the Constitution requires candidates for the presidency to be a minimum of 35 years of age and by that age there is a professional history most people will use to judge candidates' credentials. Nonetheless, well-informed voters can benefit greatly by analyzing the candidates' history in education. By studying their experiences in university we can compare the candidates as well as gain insight into their work ethic, intelligence, charisma, and pragmatism.
Comparing the presidential and vice presidential nominees of the Republican, Democratic, Green, and Libertarian parties results in readily apparent trends: elite Ivy League educations are almost uniformly present on the tickets, as are Juris Doctors (JDs). Among the four presidential nominees, three (Obama, Romney, and Stein) went to Harvard for post-graduate degrees: Obama for his JD, Romney for a dual program to receive his JD and MBA, and Stein for her undergraduate degree and MD. Additionally four of the eight candidates also have JDs (Obama, Biden, Romney, and Libertarian VP nominee Jim Gray).
From this, voters can glean two things: In theory, as students the candidates have been able to extract the most information possible from the best sources possible, but that being said their elite educations leave little room for diversity of experience.
What little diversity there is comes from the candidates of the Green and Libertarian "third" parties. Gary Johnson, the Libertarian candidate for president, did not take the degree-based route to credibility. Instead of pursuing a JD, MBA or MD, Johnson went straight from his undergraduate studies at the University of New Mexico (which he worked his way through) into business, making himself a bootstrap millionaire. That speaks to his natural business acumen and real world intuition, but leaves the caveat of a less formal targeted education that has benefited the other candidates.
Trailing all the candidates in the amount of time spent in a classroom is Green Party VP candidate Cheri Honkala. Despite having a son and living out of her car by the age of 17, Honkala did manage to graduate from high school. Rather than pursue a degree from college, Honkala was forced to fight for her life and a home, leaving her dedicated to a life of advocacy for the impoverished and homeless, and co-founding the Kensington Welfare Rights Union. As professor McNulty noted, "She is a true product of the school of hard knocks." As with Gary Johnson, this leaves the voters to weigh her personal experience against her lack of formal education. Unlike the other candidates though, Honkala can tout an apparent authentic care demonstrated through a lifetime of service to the greater good.
Finally there is Paul Ryan, the VP candidate of the Republican Party. Like Johnson, Ryan was finished with formal education once he received his bachelor's degree, but unlike Johnson, instead of going into business Ryan went straight into politics. Ryan's track record reveals a man bred for politics. He studied Political Science and Economics at the University of Miami in Ohio. Just out of college he was an economic adviser and speechwriter. As with the other candidates, Rep. Ryan's education provides voters with upsides and downsides. Paul Ryan is knowledgeable on the theory and governmental side of economics, but he does lack the real world business experience of some of his counterparts.
It takes a lifetime of work to become a candidate on a party's presidential ticket. For that reason candidates' educational backgrounds can be easily overlooked as an after thought, but analyzing educational backgrounds is useful. The candidates' education contrasts the differences between them as well as highlights their similarities. Be it Obama and Romney's extensive knowledge, Gary Johnson's entrepreneurial spirit, or Cheri Honkala's grit, the history of a candidate's formal education, or lack thereof, can provide great insights into the candidates themselves.