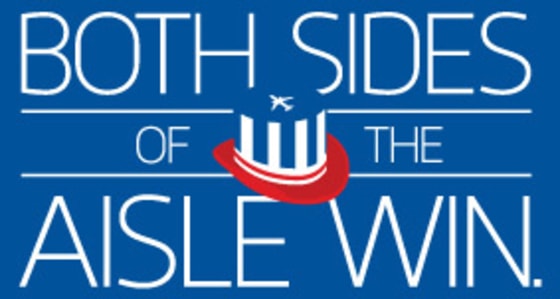 Virgin America airline has teamed up with Rock the Vote and PromoJam Social Marketing to roll out a new "get out the vote" push on all Virgin America flights through November. Using a QR code to scan with smart phones, passengers will be directed to a mobile app that allows them to register to vote with Rock the Vote.
Flight passengers will be on their way to voting in their first election, all before wheels touch down.
"Rock the Vote is thrilled to bring voter registration to Virgin America's guests as well as the opportunity to make a donation to support our efforts to register 1.5 million new voters and educate young Americans about participating in our democracy," said Heather Smith, President of Rock the Vote.
Rock the Vote registered over 2 million voters in 2008.
Virgin America airlines also announced today a new election-themed flight from San Francisco International Airport to Washington's Reagan National Airport, and had presidential impersonators on hand to celebrate.
The young airline is calling the campaign, "Both Sides of the Aisle Win".