Scene from the play. Credit: 3ctheplay.com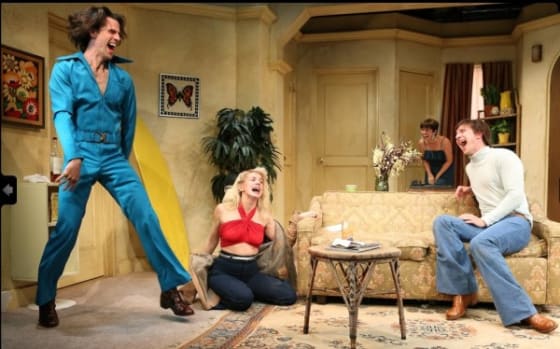 Playwright David Adjmi's Fair Use battle started on June 6, 2012 when the world premiere of his new play "3C" opened off-Broadway. An intellectual property law firm served him with a cease and desist order, claiming that his play violated the copyright of Three's Company, the1970s TV sitcom it was satirically mocking.  Under that pressure and without the money to go to court, Adjmi's representative agreed to shut down the play forever at the end of its limited run on July 14.
Now the community of New York theatrical writers is coming to Adjmi's defense, most recently in a statement July 23 from the Dramatists Guild of America, which supports Adjmi's right to have his play performed and promises assistance with his legal entanglement.  Signed by Guild president Stephen Schwartz (Wicked, Pippin, and others), the statement concludes that by defending Adjmi, "we demonstrate that culture is too important to be controlled solely by the corporations that claim to own it."
Focusing on Adjmi's First Amendment rights under the Constitution, a Guild representative pointed out that "the right of authors to make fair comment on pre-existing work (whether through parody or other forms of fair use) is a First Amendment safety valve in the copyright law, and one we wholeheartedly support, as do the courts."
For Adjmi, 38, "3C" was his third New York production and his third dark comedy, but it was the first to view the world through the distorting prism of a parody of a TV sitcom.  His choice was "Three's Company," which ran on ABC (1977-1984) and was itself a version of the British sitcom, "Man About The House."   The core premise of the frothy "Three's Company" was a straight man pretending to be gay in order to get the landlord to allow him to share an apartment with two women.
Despite the potential in its premise, "Three's Company" never pretended to be serious about sexual mores, homosexuality, or any other contemporary cultural issue.  In Adjmi's "3C," the premise is the same but with a Shakespearean twist – the man pretending to be gay is actually gay, giving his send-up of TV froth a sharper edge to go with its black comedy.   While lampooning the slapstick thinness of sitcoms, the characters in "3C" also moved on into darker areas "as issues of sexuality, mental stability, suicide and the true meaning of happiness are explored through the characters' angst-ridden dialogue and emotional outbursts," as one critic put it.
The producers' promotion description of "3C" was similar:  "The war in Vietnam is over and Brad, an ex-serviceman, lands in L.A. to start a new life. When he winds up trashed in Connie and Linda's kitchen after a wild night of partying, the three strike a deal for an arrangement that has hilarious and devastating consequences for everyone.  Inspired by 1970s sitcoms, 1950s existentialist comedy, Chekhov and Disco anthems, 3C is a terrifying yet amusing look at a culture that likes to amuse itself, even as it teeters on the brink of ruin."
Different as these two treatments of similar premises may be, it wasn't enough for Donald Taffner, Jr., president of DLT Entertainment, owner of the "Three's Company" copyright. Taffner, the son of one of the original producers of "Three's Company," said his company was "very protective of the overall brand" of "Three's Company," not only because it continues to earn royalties in re-runs, but because the company is also exploring the possibility of a stage version that would tap into the recent vogue for theatre pieces such as parodies of The Silence of the Lambs, Twilight, or Harry Potter, as well as the straight up production of The Real Live Brady Bunch, premiered on stage in 1991 and still in production around the country.
In defense of the "Three's Company" brand, DLT Entertainment had their intellectual property attorneys, Kenner and Kenner of lower Broadway near Wall Street, send a cease and desist letter to the three producers of "3C" – Piece by Piece Productions, Rising Phoenix Repertory, and Rattlestick Playwrights Theatre, where the play was performed and, according to the producers, played to sold out houses.
While the cease and desist letter has not been made public, reports from the parties indicate that it claimed that Adjmi infringed on DLT's copyright by using 17 elements of "Three's Company" in his play, including overlaps in characters and plot elements.  One complaint was that a character in both works was blonde, sexy, and the daughter of a minister.
Adjmi's initial reaction to the letter, after six sleepless nights, was to preserve his emotional and financial capital, so he allowed his agent to tell DLT than Adjmi would now produce the play or publish the script once its five-week run was over. This would effectively extinguish the play's existence.  But Adjmi did not sign any agreement or accept any compensation.
As news of Adjmi's predicament spread through the New York theatre community, he received lots of conflicting advice.  But much of that advice was to fight the lawyers and preserve his play's future.   Among the more outspoken on the issue has been playwright Jon Robin Baitz, a Pulitzer Prize finalist for "Other Desert Cities," who told the N.Y. Times:  "The fact that the lawyers for the long-gone show 'Three's Company' have nothing better to do, aside from billing hours like truffle pigs, that attempt to bully an off-Broadway playwright of modest means is an affront of the most base kind."
As far as the legal issue goes – whether "3C" is parody and therefore constitutionally protected speech as the Supreme Court has held – Baitz was emphatic that the play is "clearly and patently and unremittingly parody."  But Baitz is not a lawyer, and while some lawyers tentatively agree with his conclusion, DLT's lawyers clearly do not.  But at this stage it's not clear how determined they are to defend their position in court.
About a week ago, Baitz released an open letter signed by other theatrical notables calling for a fight:  "That an Off-Broadway playwright should be bullied by a Wall Street law firm over a long-gone TV show, is, in and of itself, worthy of parody, but in fact, this should be taken seriously enough to merit raising our voices in support of Adjmi and his play, which Kenyon & Kenyon is insisting be placed in a drawer and never published or performed again. Whether one appreciates the work or not is immaterial; the principle at stake here is a basic one. Specious and spurious legal bullying of artists should be vigorously opposed, and that opposition must begin first and foremost with all of us in the New York Theatre community."
More than 45 people signed this letter, including Tony Kushner, Andre Bishop, Stephen Sondheim, Martha Plimpton, Terence McNally, Joe Mantello, Kenneth Lonergan, John Patrick Hanley, and John Guare, as well as the New Dramatists organization and such leading theatre companies as Lincoln Center, Steppenwolf, and New York Theatre Workshop.
Yesterday the Dramatists Guild of America joined Adjmi's defense with this statement:
We of the Dramatists Guild of America wholeheartedly support playwright David Adjmi who has been facing pressure to silence his play "3C".  His work is a darkly comic parody of the sitcom "Three's Company", intended to critique the show and the social mores underlying it.  The copyright owners of that work have written a "cease and desist" letter, which would, in effect, require him to stick the play in a drawer forever.  But works of parody are protected under the fair use doctrine of copyright law, because such works serve as valuable social criticism.  Corporate interests may prefer not to have their properties targeted for mockery, but artists have the right to do so, regardless of the best bullying tactics that corporate profits can buy.  And more than having the right to do so, artists have an obligation to critique the vestments of our culture.  So we stand with Mr. Adjmi, and are in discussions with him to see what assistance he might require.  We hope others will show their support for David as well. Because, by so doing, we demonstrate that culture is too important to be controlled solely by the corporations that claim to own it.
The issue of whether parody infringes copyright is now new, but copyright holders have no incentive to let it go.  In 1988, the U.S. Supreme Court decided 8-0 in favor of parody in the case of Hustler Magazine, Inc. v. Falwell (485 U.S. 46), reversing a jury verdict of $150,000 in damages to Rev. Jerry Falwell, who had sued for libel, invasion or privacy, and intentional infliction of emotional distress by Hustler's parody ad published in 1983.
In another unanimous decision in 1994, the Supreme Court ruled 9-0 that, while 2 Live Crew's 1989 parody of Roy Orbison's 1964 song "Pretty Woman" might not deserve a "high rank" as art, that was irrelevant to its essential nature as parody that falls within the "fair use" section of the Copyright Act of 1976.  Again the case,  Campbell, aka Skywalker, et al. v. Acuff Rose Music, Inc., reversed the rulings of a lower court.
These things don't always wind up in court.  Gypsy Productions of Palmdale, California, has been producing sitcom-based murder mysteries as part of a Murder Mystery Dinner Theater series. Other producers work the same vein, creating murder mysteries based on "The Addams Family," "The Golden Girls," and even "A Very Brady Murder."
But last year, in New Jersey, things got rougher when the nonprofit Theater League of Clifton was performing "The Last Cruise of the SS Minnow," based on the sitcom "Gilligan's Island."   Warner Bros. Entertainment, Inc., co-owner of the rights to "Gilligan," wrote a letter to the theater, demanding that the theater "not continue or repeat the use of our properties after the final show" of its run.
The script in this case was from Gypsy Productions, where Roxanne Diesel also got a letter from Warner demanding that she "immediately discontinue use of this script."  Ms Diesel says she worked out an amicable settlement with Warner, agreeing to certain tweaks of the script and being careful to identify the work as parody.
The laws governing the Fair use Doctrine are vague and need to be clearer. And satire certainly needs to be protected.