Genevieve Huizar, mother of Manuel Diaz, with her daughter. Credit: ocregister.com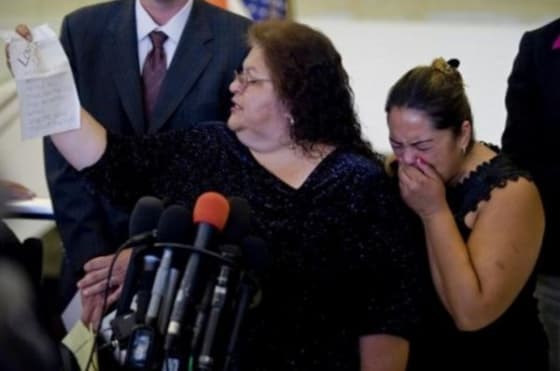 Manuel Diaz was shot and killed by Anaheim police on Sat. July 21st. His mother has filed a $50 million wrongful death lawsuit against the police department and city saying her unarmed son was shot from behind then, when he fell to his knees, shot in the back of the head. His death triggered several nights of unrest and near-riots in the southern California city. The FBI is now reviewing the shooting. It is unusual for the FBI to get involved in a case like this so quickly. Diaz's mother Genevieve Huizar has called for violence on both sides to stop.
"I watched as my son took his last breath. I watched as his heart stopped beating for the last time," Genevieve Huizar said Wednesday, breaking into sobs. "Please, please, please stop the violence. It's not going to bring my son back, and this is the worst thing any mother could go through."
Diaz, a known gang member, was shot under still-murky circumstances by police who spotted him in an alley. They said he started running away, tossing away items as he ran. But no gun was found.
"He was shot in the back of the leg area, brought to his knees before being shot in the head ... it was an execution-style shot," said attorney Diana Lopez. "There is no evidence of any kind of weapon. ... You can see the two officers walking around looking for something instead of attending to the young man who is near to his last breath," she said referring to a bystander's video that captured the post-shooting scene.
An angry, hostile crowd gathered as Diaz lay dying, unattended by police. Things were made worse when a police dog somehow managed to escape from a car and bite a bystander.
It is not against the law to be a gang member. Since no weapon was found, Anaheim police must now justify shooting an unarmed man from behind.
The fact that Diaz allegedly "tossed away items" is completely irrelevant to the story. Here's the simple fact: No weapon of any kind was found. Here's another fact: Even if he had thrown away a gun, unless they claim that he pointed it at the police or anyone in a threatening manner, the police didn't have the slightest right to shoot him.
There have been five officer-involved shootings in Anaheim just this year. In another shooting on the same weekend, police killed Joel Avecedo, who they say was shooting at them. If so, then that shooting would appear to be justified. But the Anaheim police union says Diaz was reaching for his waistband so the officer thought he might be going for a gun. Inquiring minds want to know how the officer determined that at night as Diaz was running away, especially since no gun was found. "Who will police the police?" is just as true now as when Roman poet Juvenal said it in the first century.