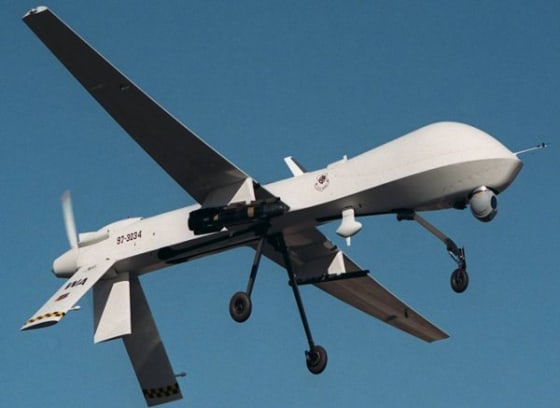 Journalists are taking a look at the various Obama administration assertions about the number of civilians killed by US drone attacks in Pakistan and are concluding they are "contradictory and sometimes imply improbable conclusions."
They all minimize the possible civilian death toll, saying there's been "a handful." The maximum figure ever given is sixty. Worse, US policy appears to consider all military age males in a strike area as combatants and thus targetable. There have been 307 drone strikes in Pakistan since 2004. The program began during the Bush Administration, who ordered just 44 drone strikes. Thus, the Obama Administration has greatly expanded the use of drones.
Meanwhile, the UN Special Rapporteur on Extrajudicial Killings has called for the US government to "clarify the procedures in place to ensure that any targeted killing complies with international humanitarian law and human rights and indicate the measures or strategies applied to prevent casualties, as well as the measures in place to provide prompt, thorough, effective, and independent public investigation of alleged violations."
He's citing figures from the Pakistani Human Rights Commission, the Bureau of Investigative Journalism, and the New America Foundation that say as many as 3,000 have been killed by drone strikes in Pakistan and that perhaps 20% of those have been civilians.
Still, Democrats continue to give the administration a pass on these killings. There's not even a serious debate among progressives about whether they should actually be contemplating voting a second term for an administration which has out-Bushed Bush, because this is, as it is every election cycle, "the most important election ever!" (TM)
To understand why the existence of a presidential kill list won't do much to dent Obama's strong foreign-policy standing, it's important to remember that Americans don't just like drone warfare-- they love it. A Washington Post poll this February found that 83 percent of Americans approve of Obama's drone policy. In addition, a whopping 77 percent of liberal Democrats support the use of drones-- and 65 percent are fine with missile strikes against US citizens.
In an article entitled "Oversight failures help oil Obama's killing machine," the Bureau of Investigative Journalism actually says that "those unmanned killing machines may actually help put Obama back in the White House. Yet like Guantanamo, the cost to the international reputation of the United States may prove devastating."