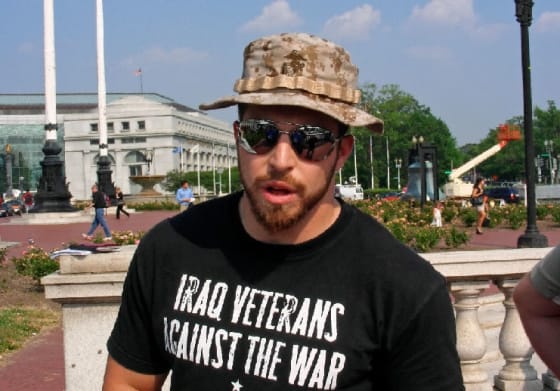 There are few topics in the United States that trigger a patriotic spirit as fiercely as mentioning members of the US military. Particularly in a post-9/11 world, most American civilians and loved ones of veterans share a fervent sense of gratitude and indebtedness to the countless souls who've joined the Armed Forces. Towns are filled with American flags, millions of cars sport yellow ribbons emblazoned with the phrase, "Support the Troops," and numerous holidays, parades and festivals draw legions of attendees for the opportunity to honor the sacrifice of America's veterans. But while average citizens, media pundits, and politicians may never miss a moment to encourage us to remember those who've served, rarely do Americans take the time to actually listen to the veterans themselves.
The national conversation regarding veterans, their families, and foreign policy always remains eerily quiet on fundamental questions. What does it mean to "support the troops?" What do the troops support? Hardly a day passes where I don't see a television commercial or Internet ad requesting donations for soldiers suffering from PTSD or for the loved ones of military members killed in combat and yet the question is seldom asked: Why are they dying and suffering in the first place? After a decade of endless war and military boondoggles, why is there no one objecting to sending more troops into harm's way?
As it turns out there are many who've been decrying U.S. foreign policy for quite some time, only to fall on deaf ears. Perhaps the strongest among these denunciations come from veterans themselves. The non-profit organization Veterans for Peace (established in 1985) boasts over 100 chapters across the country with roughly 5,000 members, while groups such as Iraq Veterans Against the War now consists of 61 chapters and a membership of nearly 2,000. In case these figures don't strike you as significant consider the amount of support Texas Congressman and 2012 Republican presidential candidate Ron Paul receives from those who list the U.S. military as their employer.
A report filed with the Federal Election Commission shows Paul as of last February receiving $242, 507 in 1,405 donations, compared to Barack Obama's $130, 041 in 1,156 donations. While Congressman Paul has all but conceded to Mitt Romney, these numbers are significant because of the staggering difference in fundraising from those employed by the military for Paul as compared to the rest of his opponents. During the time frame of the report, Paul's donations from members of the military totaled more than the same donations for Romney, Newt Gingrich, Rick Santorum, Congresswoman Michelle Bachmann, Herman Cain, Governor Rick Perry, and President Obama-- combined.
For a candidate whose chances of winning the nomination of his party were slim to begin with, it's more than curious that such a  large portion of Americans in general but particularly veterans would divvy up that much cash. What has inspired this vast support from the military? Three of the four veterans I interviewed for this article are Paul backers and I asked them this very question. Their answers were rather simple: He wants to bring the troops home.
Adam Kokesh, a former sergeant in the Marines who served in Fallujah in 2004 said he had always been somewhat skeptical of U.S. foreign policy at least on a superficial level. Kokesh said, "I thought I was helping the Iraqi people, but after I got home, I began to question things." Kokesh recalls many of those he served with having doubts as well, saying, "A lot of us were very skeptical. It wasn't really questioning the premises yet... just seemed like it wasn't working. Most questioning was superficial. You're so emotionally invested, being able to question is difficult."
Now a full-time independent journalist, Adam began his journey as a peace activist with Iraq Veterans Against the War after returning home and has since formed the organization Veterans for Ron Paul and organized large veterans marches in support of the Texas Congressman including one in front of the White House with hundreds of veterans and the second to take place before the Republican National Convention this August. Of his experiences while interacting with other veterans and taking part in other forms of activism, the former Marine was less than cheerful:
"The saddest thing I've learned from being an antiwar veteran activist is that the attitude that I thought was necessary-- when people say 'support the troops' that's a command. As in you do it. The attitude from when you come home and you want to tell them what's going on-they don't want you to speak out. They want you to go away quietly. They want you to be part of their fantasy world of government. [For example] People ignore veteran suicides."
Kokesh is right that the alarming number of veteran suicides seem to go unnoticed among average Americans. When was the last time you heard a mainstream newscast or prominent politician address this issue? Reports from 2010 alone indicate more veterans died from suicide that year than from active combat, and there are little signs to indicate this trend is slowing down. According to a New York Times article from last April, "For every soldier killed on the battlefield this year, about 25 veterans are dying by their own hands." Even the Department of Veterans Affairs reports an average of 18 veterans committing suicide per day.
As to why so many Americans remain silent on this issue, West Point graduate, Iraq veteran and Paul supporter, Antonio Buehler had this to say:
"I think a lot of the media is not talking about it, but Americans live a very privileged life. We don't have terrorism in our streets or mass poverty in our streets. We benefit in large part from what was built up over the last two centuries where it's very easy to be disengaged from what's going on. As for PTSD, and things that go unnoticed, I'm not surprised at all that people don't know what's going on with the veterans. Sort of like the military, if you recognize something's immoral then you have a responsibility to do something about it. If you start to acknowledge what these problems create, if you start to acknowledge all the lives that are destroyed it requires you to do something about it… and doing something about it is very very hard. You can't just go to the voting booth and check the Republican or Democratic box. They hide themselves from the reality of what society is putting these soldiers through.."
National President of Veterans for Peace, Leah Bolger, a retired Navy Commander and veteran with twenty years of service had similar thoughts:
"I think that both PTSD and suicide are indicators that killing innocent people is unnatural and goes against our core morals as human beings. We are seeing more and more awareness and concern on the part of the American people about both issues, however I think it is a sad commentary that Americans only seem concerned about Americans.  What about the PTSD incurred by Afghan children who see their parents killed, or Pakistanis who live in constant fear of drone attacks?"
Studies indicate an escalating rate of civilian deaths in Iraq, Pakistan, Afghanistan, not to mention the various other conflicts into which the U.S. government has deployed American troops. As I've noted elsewhere, the rising death toll of civilians, American troops, as well as the bloated Pentagon budget should cause Americans to take pause and ask themselves serious questions regarding our current foreign policy.
All four of the veterans I interviewed virtually agreed on two matters: First, the only reason U.S. troops should ever be deployed is in the event of imminent attack or actual defense and it should be done so by the appropriate authority not by presidential decree; secondly that the greatest obstacle facing the movement to end American involvement in preemptive wars and nation-building is a lack of awareness and courage on the part of the American people to demand accountability from their government.
When asked in his view what is the greatest threat to national security, U.S. Army veteran Bill Bennett, who served from 1979-1999 with two tours in Panama and two tours in Germany before finally retiring at Ft. Stewart, Georgia, spared no time in answering: Apathy towards government policy. Here's what Bennett said about voter apathy toward foreign policy:
"Lack of a draft. I think the draft needs to be re-instituted and when America goes to war, America goes to war equally. War is a serious thing, if a nation goes to war and its citizens are dying, all walks of life should have to share in that. If they don't share in that, they have no idea what's going on. It's meaningless to them. If you've got a brother, son, or uncle that has gone to serve, then that brings it home."
My final question to each of these veterans was what message would they give to the American people as a veteran. Adam Kokesh summed up everyone's thoughts succinctly:
"Have the courage to admit your responsibility and culpability for all of the policies and politicians you've ever voted for… and have the courage to face the reality of our foreign policy and have the courage to do something about it."
Whether they're urging people to vote for Ron Paul, (as is the case with Bennett, Kokesh and Buehler) or overseeing a national organization of veterans seeking peace like Leah Bolger, it's becoming increasingly clear that many veterans and active duty service members are beginning to question U.S. foreign policy for a variety of reasons. Some view it as a waste of taxpayer dollars, especially for a nation on the verge of bankruptcy (that spends more on its military than all other nations put together).
Others view the conflicts as wars of aggression and are concerned with the loss of civil liberties in recent years, as well as the destruction of the family and many simply can't bear the pain of enduring warfare and wish for others to avoid it. Whatever their motivation, many American veterans are finding their toughest battles were not fought on distant lands against  unknown enemies but lie ahead of them as they cope with grief and strive to make the American people finally examine what "supporting the troops" truly means.