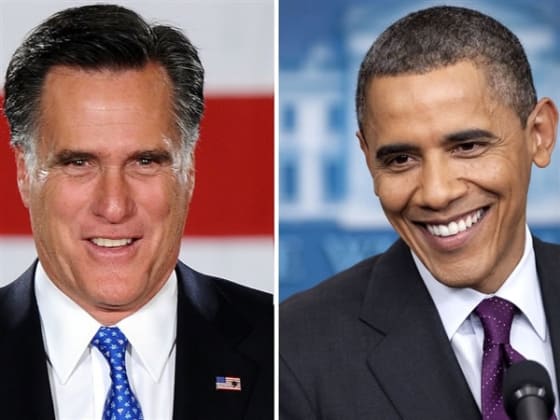 Both Mitt Romney and President Obama are giving campaign speeches in Ohio today. President Obama's speech has been touted as a major statement on the economy.
UPDATE:
David Axelrod, President Obama's campaign advisor, will now be taking questions submitted to @BarackObama with the hashtag #Obama2012
--
UPDATE:
After an hour, Obama ends his speech with, "this November you can provide a mandate..." and of course, reminding the crowd that America is the best nation.
--
UPDATE:
Battle of the busses? Romney and Obama face off in Ohio, and as CBS White House correspondent Mark Knoller tweets:
Romney Campaign bus - emblazoned with Romney Campaign logo - is driving around Pres Obama's speech site honking its horn. — Mark Knoller (@markknoller) June 14, 2012
Talking Points Memo has reports of the Romney campaign bus circling President Obama's speech site, earlier today.
Obama camp responds to Romney bus honking: "antics that are more at home in a second grade classroom" than a campaign bit.ly/LczTB0 — Igor Bobic (@igorbobic) June 14, 2012
--
UPDATE:
Obama acknowledges last week's gaffe on the private sector, stating:
There will be no shortage of gaffes and controversies that keep both campaigns busy and give the press something to write about. You may have heard I reasonably made my own unique contribution to that process. It won't be the first time, it won't be the last.
--
UPDATE:
Libertarian presidential nominee Gary Johnson is not giving a speech on the economy today, but he's not afraid to chime in the debate:
My statement re #Obama & #Romney Ohio speeches: garyjohnson2012.com/gov-gary-johns…—-except-for-speech-writers #libertarian #tcot #RonPaul #Election2012 — Gov. Gary Johnson (@GovGaryJohnson) June 14, 2012
Check out his blog entry to see where the Governor stands on job creation, debt reduction, and economic recovery.
--
UPDATE:
Obama cites "shared responsibility" as guide to all of his economic policies.
Pres.: "I don't believe govt. is the answer." But quotes the greatest Republican of all - Lincoln -who advocated govt. advocacy — West Wing Reports (@WestWingReport) June 14, 2012
--
UPDATE:
Obama: If you want to give the policies of the last decade another try, you should vote for Mr. Romney. You should vote for his allies.
Obama: "This has to be our North star. An economy that grows not from the top down but from the middle class." — Roger Simon (@politicoroger) June 14, 2012
--
UPDATE:
Obama has conceded this election will come down to two competing views of economic recovery, and argues, "nothing is more important than an honest debate on where these two paths will lead us."
On the president's message,
Barack Obama is finally making the pragmatic economic case for income inequality slowing growth, instead of just yelling about fairness. — Zach Green (@140elect) June 14, 2012
UPDATE:
Obama's makes multiple references to Bush and the state of the economy before he took office. A good strategy, based on this morning's Gallup Poll findings.
UPDATE:
"We are digging out of an entire decade where 6 million jobs left our shores"
The difference in @BarackObama/@MittRomney is stark: POTUS focuses on stability/security - Romney on "freedom" to succeed & fail — David M. Drucker (@DavidMDrucker) June 14, 2012
--
UPDATE:
Obama: Prosperity never trickled down to the middle class. — Zeke Miller (@ZekeJMiller) June 14, 2012
--
UPDATE:
"What's holding us back is a stalemate in Congress...This election is your chance to break that spell."
Per pool reports, 1,500 people at Obama's speech. — Ezra Klein (@ezraklein) June 14, 2012
--
UPDATE: "A make or break moment" 
The crowd in Ohio chants "Four More Years" as Obama begins his speech. The president opens his speech by agreeing with his opponent Mitt Romney:
"This election is about our economic future." 
Obama points out that the election comes down to two fundamentally different viewpoints on the economy.
"I have said that this is the defining issue of our time and I mean it." 
UPDATE:
Romney gives Rubio a shout out - hint that he might be VP? — Alan Fisher (@AlanFisher) June 14, 2012  
Ohioans must be rooting for Portman. Two Rubio mentions in two days and no applause. That is unusual. — Sam Youngman (@samyoungman) June 14, 2012
--
UPDATE:
Here are three of the zero trade agreements Obama's negotiated. #Romney washingtonpost.com/business/econo… — Simon Maloy (@SimonMaloy) June 14, 2012
--
UPDATE: 10:55am
Mitt Romney's campaign team is taking this opportunity to emphasize what Romney would do in his first 100 days of presidency.
[Infographic] The first 100 days: how would a Romney Presidency be different from a second @BarackObama term? mi.tt/LVsODb — Mitt Romney (@MittRomney) June 13, 2012
--
UPDATE: Obama's has arrived in Cleveland, still waiting to give his speech. Follow it here.
Also, David Axelrod, Former Senior Advisor to President Barack Obama, will be answering questions on Twitter with the hashtag #Obama2012.
--
UPDATE: Mitt Romney is speaking now. Watch here.
Romney says on Day 1 of his presidency, he will authorize Keystone XL pipeline.
Banner watch. Romney: "Putting Jobs First." Obama: "Forward" #characterstospare — Mike Memoli (@mikememoli) June 14, 2012
Romney on President Obama's handling of public debt: "That's forward on the way to Greece"