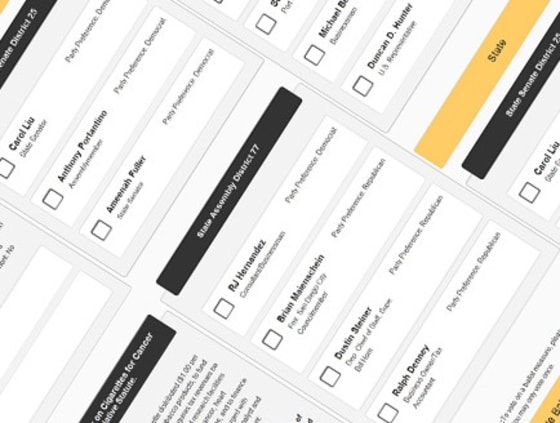 Beginning May 14 an online election for Independent voters across California will be hosted by the Independent Voter Project and Everyone Counts. The Independent Preference Survey is a glimpse into what the future of democracy could look like.
ATTENTION: SURVEY NOW OPEN FOR EARLY VOTING
DID YOU GET A PIN? VOTE HERE
DON'T HAVE A PIN? VIEW THE DEMO
The election is set to create an endorsement process of candidates by Independent voters in the State. Independent voters in certain districts across California will be sent ID codes that allow them to vote in an Independent Preference Survey prior to the June 5 primary election. Results from the Survey will be published on the Independent Voter Network and sent to candidates in the races being polled.
The online Independent Preference Survey is a follow up to Proposition 14 that passed in 2010. Proposition 14 created an Open Primary where all voters, regardless of party, elect the top-two candidates who face off in the November general election.
The online survey is a blend of new technology and new election laws that are both designed to provide greater access to citizens in an election. The Open Primary allows over 20% of California's voters who were not allowed to participate in primary elections to cast their vote. Online elections have allowed more people, whether absentees, disabled, or just plain busy voters to participate in an election.
The online survey employs a model that could be replicated by states or municipalities that want to host online elections. In fact, the process has been used by several cities that are allowing deployed military members to vote online using the process designed by Everyone Counts. In all cases voter participation has increased and security has never been a factor. Online elections also cost half of the price of conducting a traditional paper election.
IVP was the author of Proposition 14 and focuses their efforts on educating non-partisan voters on their rights in elections.
Everyone Counts is the leading online election service who has successfully held secure, accurate, accessible, and transparent elections in Denver, El Paso, New South Wales (Australia), West Virginia deployed residents, and for the Oscars.