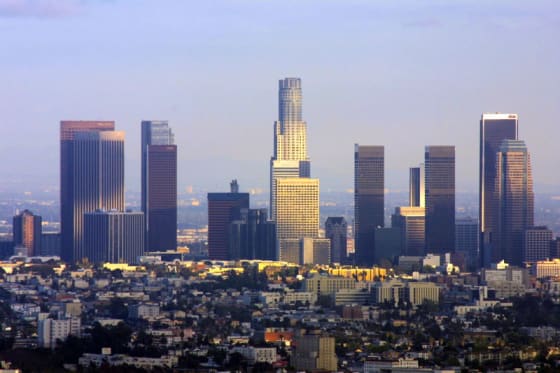 Los Angeles topped the Environmental Protection Agency Top 25 Cities with "Energy Star" Certified Buildings for the fourth year in a row in 2011. The City of Angels increased its number of "Energy Star" certified buildings by 149 from 2010, leading the United States with 659 buildings.
In all, six California cities made the list, including San Francisco (#5), Riverside (#9), Sacramento (#12), San Diego (#19) and San Jose (#21).
Washington, DC ranked second on the list with 404 "Energy Star" certified buildings. San Francisco fell from third to fifth between 2010 and 2011. Riverside, California made it's first appearance in the top 10 with 164 green "Energy Star" certified buildings.
Rounding out the Top 10 for 2011: Atlanta (#3), Chicago (#4), New York (#6), Houston (#7), Dallas-Ft. Worth (#8), and Boston (#10).
"More and more organizations are discovering the value of Energy Star as they work to cut costs and reduce their energy use," said EPA Administrator Lisa Jackson, in a statement. "This year marked the twentieth anniversary of the Energy Star program, and today Energy Star certified buildings in cities across America are helping to strengthen local economies and protect the planet for decades to come."
"Energy Star" was launched by the Environmental Protection Agency in 1992 as a partnership to decrease greenhouse emissions by promoting energy efficiency.
2011 Top 25 "Energy Star" Cities
1. Los Angeles
2.Washington, DC
3. Atlanta
4. Chicago
5. San Francisco
6. New York
7. Houston
8. Dallas-Ft. Worth
9. Riverside, CA
10. Boston
11. Denver
12. Sacramento
13. Phoenix
14. Minneapolis-St. Paul
15. Philadelphia
16. Seattle
17. Charlotte
18. Miami
19. San Diego
20. Detroit
21. San Jose
22. Tampa
23. Portland, Ore.
24. Colorado Springs
24. Salt Lake City
25. Cincinnati
The full report from the EPA can be viewed here.