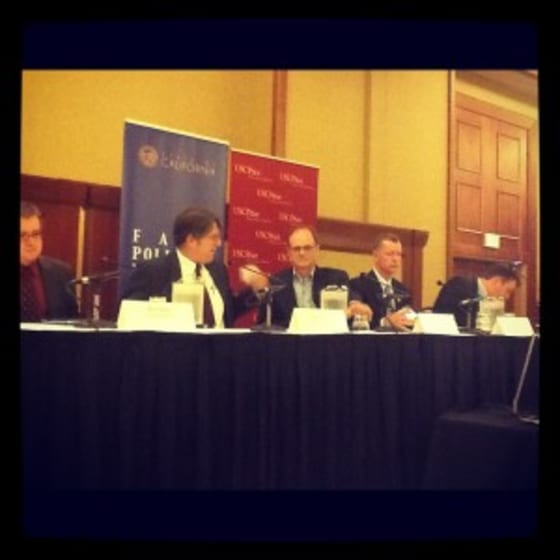 Yesterday in Sacramento, the USC Sol Price School of Public Policy and the California Fair Political Practices Commission hosted a symposium on campaign finance reform and disclosure.
It is no secret that elections have grown increasingly polarized in recent years; with Super PACs and non-profit organizations spending record amounts on candidate attack ads. The most disturbing part of this trend is the fact that these independent expenditures are often exempt from the reporting requirements placed on traditional campaigns. In many states, including California, there is no limit on the amount that can be raised through an IE. Expenditure committees are free to spend astronomical sums to boost or decimate any candidate of their liking- so long as there is no official coordination between the candidate and the committee.
Much of the panel discussion centered on how to find the right balance in crafting future reforms. On one hand we are faced with an increasing demand from the electorate for more transparency in campaign finance, on the other we have the basic need to protect one's freedom to associate and right to privacy.
Former California State Senator Steve Peace, who serves as Co-Chair of the Independent Voter Project, offered some pointed insight as to why the current laws create "bad actors" and reward those that benefit from a rigged political system they helped to create. "Simpler is almost always better," said Peace. He suggests that the current problem is a direct result of having created campaign contribution and reporting thresholds in the first place. It is simply too easy to hide money- a point most of the panelists and audience agreed on.
Peace advocated for full and instant campaign disclosure via the internet, coupled with the removal of contribution limits. "We need to remove the barrier for contributions to candidates, and make them fully responsible for their message." A move he believes will help to bring about transparency and eliminate the incentive to operate through independent expenditures.