Team Sherman and Team Berman volunteers campaigning outside the Convention Center in San Diego, Feb. 11. Photo Credit: Benjamin Wong, IVN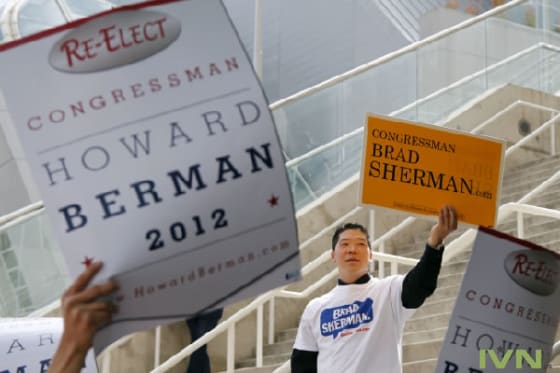 Rep. Brad Sherman and Rep. Howard Berman butted heads this weekend at the California Democratic Convention, both vying for the Democratic endorsement for the 30th congressional district. Due to California's newly redistricted maps, both candidates forfeited the advantage of incumbency and are now fighting against one another to represent the newly defined San Fernando Valley district.
And despite cries from the Republican Party, the California Supreme Court upheld the legality of the Senate district lines drawn by the California New Citizens Redistricting Commission. So we're left with one district, two Democrats.
Volunteers for both campaigns rallied outside the Convention Center in San Diego, chanting for their favored candidates, holding campaign posters, and handing out flyers and letters. Of all the Sherman/Berman paraphernalia handed out, most surprising was a letter handed to me by a teen volunteer.  In the memo, member of the State Board of Equalization Betty Yee took on a harsh tone as she urged the Democratic Delegates to cast their vote for Howard Berman. The first line read:
"It would be insane, self-destructive, and wrong…horribly wrong for the Democratic Party to support Brad Sherman against Howard Berman in Congressional 30."
The race turned ugly Saturday night, when the party endorsement caucus transformed into a "battleground," pitting Democratic against Democrat.
Sherman was relentless in his attacks on Berman's financial backing, noting, "My opponent's first super-PAC had a six-figure contribution from PG&E." Berman fired back, calling Sherman's attacks "slightly pathetic." John Myers of KQED News caught the full audio from the debate on tape, but what's left unseen is the disturbance that hit the room before the proceedings. He reports:
"A young man was actually chased through the conference room before the proceedings, with accusations he may have snatched a delegate ballot. The moderator later had to admonish loyalists against booing a fellow Democrat."
As the caucus came to a close, Sherman received 54% of the ballots cast, but did not hit the 60% mark needed to win the endorsement. With the new open primary system in California, this Democratic battle could continue past the June Primary into the November election. But for now, both the "-ermans" left San Diego empty-handed.