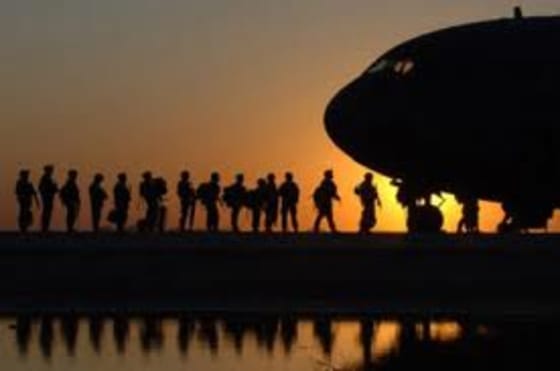 Pentagon officials recently announced their intention to drawdown the number of U.S. troops in Afghanistan from peak levels reached over the summer. In June, the majority contingent of NATO fighters in Afghanistan stood at about 101,000 U.S. soldiers. This number will be reduced to 33,000 by the end of 2012. The gradual drawdown, which is already underway, is not an indication that NATO intends to abide by a tentatively scheduled 2014 deadline for withdrawal. Undersecretary of Defense for Policy Michèle Fluornoy stressed in a recent speech to the Council on Foreign Relations that "2014 is not a withdrawal date—it's an inflection point."
Fluornoy went on to say that Afghans would require support from the international community for some time to come and that the U.S. has "been negotiating a strategic partnership agreement with the Afghan government that would lay out an enduring strategic partnership far into the future." Afghan president Hamid Karzai has been seeking support from within his government for a bilateral security agreement that would keep American forces in Afghanistan for at least another ten years.
While Afghanistan braces for an enduring Western presence, Iraq is now enjoying a measure of independence as U.S. combat troops pull out under a 2008 security pact. Some of the 31,000 soldiers making their exit from Iraq by year's end will serve the remainder of their 12-month tour in neighboring Kuwait. The redeployment news was confirmed earlier this month by 1st Brigade, 1st Cavalry Division commander, Colonel Scott Efflandt after the Colonel posted comments to the unit's Facebook page. "This force will function as a reserve in the region to provide maximum flexibility for response to contingencies," wrote Efflandt.
The need for such contingencies might arise from a train of covert operation missteps taking place within bordering states such as Pakistan. After a U.S. drone strike killed 24 Pakistani soldiers last Friday, leaders in Islamabad have vowed they will no longer conduct "business as usual" with the United States. The cross-border attack comes at a time when anti-U.S. sentiment is at an all-time high among Pakistanis who mostly deplore the unpopular military alliance. In a CNN interview, Prime Minister Yousaf Raza Gilani said that Pakistan is re-evaluating ties with the U.S. and that an alliance can only continue with mutual respect and mutual interest for the sovereignty of both counties. Just to prove how serious Pakistan's resolve for mutual respect is, Interior Minister Rehman Malik confirmed on Sunday that crossing routes for NATO supplies into Afghanistan have been halted.
As Pentagon officials deal with the unfolding PR nightmare in Pakistan, their material support for a proxy war in Somalia is going largely unnoticed. The al-Qaeda affiliate in Somalia, al-Shabab, is now engaging three foreign invaders keen on institutionalizing Somalia's U.S.-backed transitional government. Reports indicate that Ethiopia is the latest African nation to have sent troops into Somalia.
Looking further abroad, President Obama has announced an accord for a new permanent military presence in Australia, expanding the U.S. Navy's sphere of influence into the South China Sea. According to the Wall Street Journal, officials in both countries say "the expanded military presence is designed as a demonstration of U.S. commitment to the region, part of an effort to refocus on Asia as the U.S. withdraws from Iraq and draws its forces down in Afghanistan." In a Nov. 17 speech to the Australian Parliament, President Obama said the Asia-Pacific region is now a "top priority" for U.S. security policy. The strategy was revealed mere weeks after China launched its first aircraft carrier – a buoyant threat to America's military supremacy in the region.