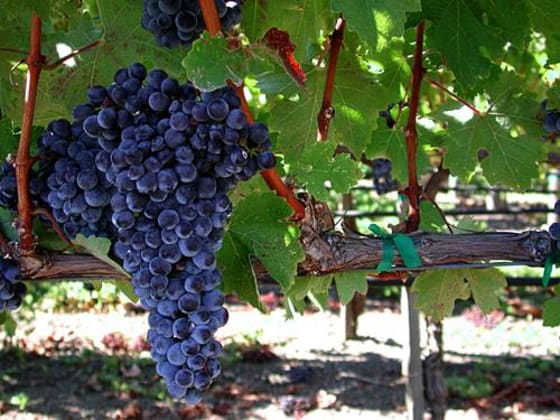 A slow economy and unusually cool weather this season have significantly tightened wine grape supplies. Industry insiders expect the shortages to last for several years but say the retail price of wine shouldn't be affected. This according to two recent surveys released by the University of California, Davis School of Management.
Robert Smiley, dean and professor emeritus at the UC Davis grad school presented the findings at the 20th annual Wine Industry Financial Symposium in Napa, Calif. on Tuesday. His report was informed by a pair of surveys of wine industry professionals and executives.
     "Even though we have technically been out of the recession for two years, growers have been reluctant to expand their plantings or replace older vineyards that are moving into declining production," Smiley said.
The problem has been compounded, Smiley added, by recent cold weather snaps that have greatly reduced this year's wine grape yield, especially a damaging freeze that cut into production in the Central Coast region.
But the wine grape shortage will be a burden on the backs of growers and producers only, Smiley noted. Surveyed executives say discounted pricing on high quality wines – a reaction to the poor economy – is here to stay. This is mainly because retailers are finding that it is an effective tool for drawing consumers into their stores. Consumers won't likely be affected for the foreseeable future, Smiley says.
The report also reveals what professionals and executives believe to be the most pressing issues for the wine industry over the next five to ten years. Consolidation within the industry's distribution sector, increased government regulations and environmental issues stood out for executives, while the slow economic recovery, pricing pressures, government regulations and higher taxes were at the top of growers' lists. For the first in the surveys' 20 year history, professionals have also included grape shortages, as well as unpredictable weather and oil prices, as likely constraints on industry growth.
Despite the numerous challenges facing California's wine industry, 71 percent of survey respondents were sure that their businesses would show improvement in the coming year. Smiley says this reflects a level of confidence that hasn't been seen since 2007.
     "In addition, these executives foresee an insatiable thirst for wine at home and abroad," Smiley said. "They are quite optimistic about the growing demand for wine in the United States, particularly among consumers in their mid-20s, as well as internationally, especially in China."