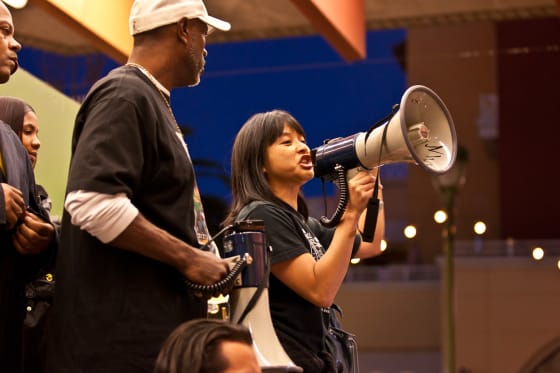 Protests throughout The Golden State have erupted over a recent string of police violence against unruly homeless men loitering in public areas, with demonstrations last weekend and more scheduled for this coming weekend.
The public outrage, gaining much of its momentum and raising awareness through the Internet and social networking sites like Facebook, is drawing local and national media attention to an alarming number of excessive force incidents in recent days by local police departments against homeless men in California-- some of them fatal.
Last month on July 3rd, responding to calls about a "wobbly drunk" on a Bay Area Rapid Transit (BART) station platform, BART police encountered 45-year-old Charles Hill, homeless and intoxicated. Within seconds of arriving on the scene, an officer pulled his gun and fatally shot Hill, who he later claimed was threateningly approaching him with a knife. There were multiple witnesses on the platform and one woman reported that Hill posed no threat to anyone and that she didn't see him carrying any knives.
The shooting happened almost exactly one year after racially-charged riots rocked Oakland when a white BART officer was found guilty of manslaughter and sentenced to two years in prison for shooting an unarmed black man named Oscar Grant, a verdict and sentencing that the rioters considered too lenient for what they considered to be an act of murder. The police officer claimed to have mistaken his gun for his taser.
In order to preempt a demonstration planned for this past Saturday to protest Hill's shooting, BART officials actually made the decision to cut off underground cellphone service for several hours, hoping to tactically disrupt the demonstrators' coordination abilities via mobile phone. The decision has prompted some critics, including one member of BART's own board of directors, to accuse officials of "Orwellian" censorship.
On July 5th of this year, just two days after BART police fatally shot Charles Hill, Fullerton police were investigating reports of a suspect breaking into cars when they encountered a 37-year-old, schizophrenic, homeless man named Kelly Thomas. When they tried to search his backpack, Thomas ran. What happened next, multiple witnesses say, was unnecessarily excessive and brutal.
Thomas received multiple taser shocks as police beat and kicked him. Witnesses allege that Thomas posed no threat to the officers or anyone around him, and in a video of the incident Thomas can be heard screaming for his dad as the officers repeatedly taser him. He was rushed to the hospital to be treated for serious injuries and died five days later.
Most recently, Oakland police shot another homeless man this past Friday, August 12. Police attempted to detain him for urinating in public when he allegedly fought back and assaulted an officer with a blunt metal object. That's when another officer pulled out her firearm, according to police, and shot the man. He was taken to a hospital for treatment and is expected to survive.
The string of incidents should raise questions about police training and procedures to deal with potentially hostile suspects on the streets, especially when they might be mentally ill. Are police using excessive force to deal with men like Kelly Thomas? Are their actions consistent with their training and official procedures? If not, how can California police departments better ensure compliance? If so, do the official procedures need reform?
At the center of the issue is the delicate balance between protecting the lives and safety of public servants who have a dangerous job to do, and ensuring the rights and dignity of even some of California's most marginalized and desperate residents: its homeless people.