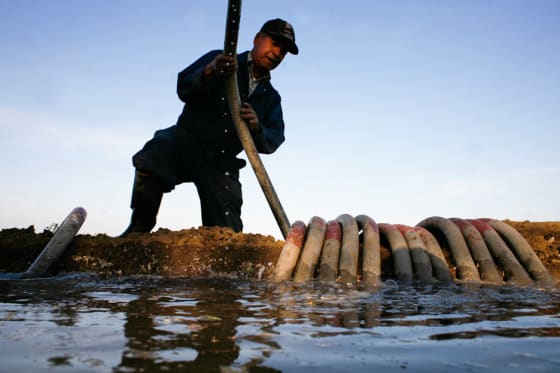 The California Department of Fish and Game has issued a new restoration plan for the Sacramento-San Joaquin Delta. The "Draft Ecosystem Restoration Program Conservation Strategy" will, according to state officials, guide future efforts to conserve wetlands habitat in the Delta region and improve water flow in the estuary.
Though the draft plan isn't a policy proposal per se, its recommendations outline, in the words of Ecosystem Restoration Program manager Dave Zezulak, "the department's vision of the best opportunities" for transforming the Delta's aging levee system. Delta experts have been warning officials for years about the potential catastrophe that would accompany a levee break from an earthquake or tidal surge. Proponents of reworking the levees say the state's drinking water supply and agricultural infrastructure in the region are at risk if work on the Bay Delta Conservation Plan doesn't move forward.
State and federal officials have already butted heads with farmers in the region who say local wisdom about the viability of the delta levees trumps the opinions of outside experts. Some locals believe the environmental lobby in DC is looking for a wetlands land-grab.
At issue for estuary island landowners is the proposed tunnel system that would divert Sacramento River water to pumps near the city of Tracy. From there the fresh water would be channeled southward. Opponents of the plan say it would lead to brackish water penetration deeper into the Delta from the saltier San Joaquin River and San Francisco Bay, ruining grazing pastures and farm fields.
Farmers cultivate land on some of the 60 "sunken islands" that rest on the once vast tidal marsh. Now, more than 1,000 miles of levees hold back water from inundating these estuary keys whose exposed peat surfaces have compacted below sea level over the years. Residents fear the tunnels will cut into funds needed to maintain the levees, a convenient pretense for converting such workable lands into protected wetlands.
The public comment period for the draft Conservation Strategy will last through August 22. A finalized version should come as soon as December. By then, the U.S. Fish and Wildlife Service and the National Marine Fisheries Services are expected to have signed on to the plan.
A copy of the draft proposal can be downloaded here.