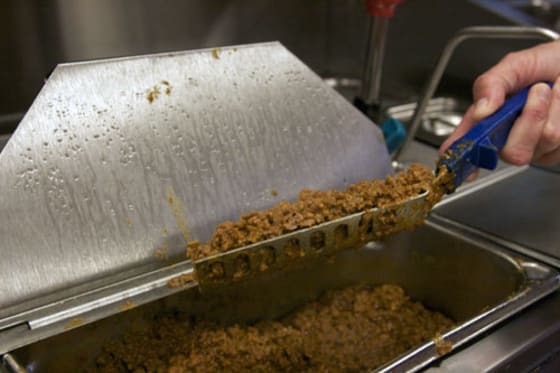 A lawsuit filed in federal court in the Central District of California alleges that Taco Bell is falsely advertising its products. The class action suit filed by an Alabama law firm holds that tested samples of the "meat mixture" used by the fast food company for its menu contained very little actual meat.  According to the legal complaint, what Taco Bell is passing off as "seasoned ground beef" or "seasoned beef" is made up of mostly binders and extenders, amongst other savory things such as soy lecithin, wheat, oats, maltodrextrin, modified corn starch and anti-dusting agents.
In fact, the complaint alleges that the meat product doesn't even meet the modest minimum requirements set by the U.S. Department of Agriculture to be called "beef." Dee Miles for the Montgomery firm Beasley, Allen, Crow, Methvin, Portis & Miles said samples that attorneys had tested contained less than 35 percent beef.
Rob Poetsch, spokesman for the Irvine-based company, denied that Taco Bell was engaged in false advertising. He told CBS local news in San Francisco, "Taco Bell prides itself on serving high quality Mexican inspired food with great value. We're happy that the millions of customers we serve every week agree." He added that Taco Bell would "vigorously defend the suit."
Lawsuits against eateries are often viewed as frivolous or ineffectual, but this particular one exudes a different nature. Class action participants – some of whom are California residents and all of whom are Taco Bell customers – are not seeking monetary damages. The plaintiffs are only asking the court to order Taco Bell to advertise honestly.