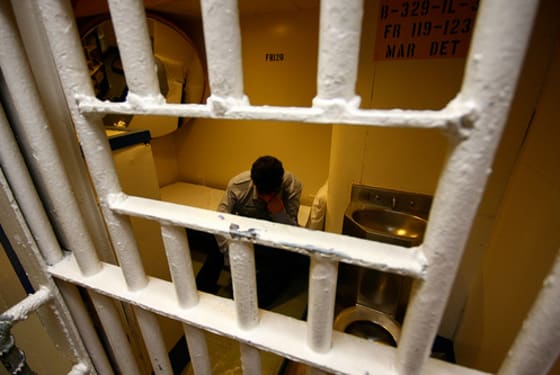 A female guard's search of a male prison inmate's genitals and buttocks through nearly-transparent underwear was ruled unconstitutional by the San Francisco-based Ninth U.S. Circuit Court of Appeals. The full 11-judge panel's 6-5 decision called the search "unreasonable" because it was unnecessary and "humiliating" for the female guard to touch a male inmate's private areas in a non-emergency situation with other male prison staff readily available to perform the search instead.
The ruling will set new procedural standards for the prison systems of the nine Western states under the Ninth Circuit Court's jurisdiction, including California. Just Detention International, which advocates for the rights and safety of detainees who are sexually assaulted, called the ruling a big win in the fight against prisoner abuse, with JDI's Senior Program Director, Melissa Rothstein saying:
"This is an important decision, as cross-gender searches of male detainees rarely are recognized as a serious problem even though they are directly linked to sexual abuse."
The search took place in 2004 inside of a minimum-security jail in Maricopa County, Arizona, where the county Sheriff, Joe Arpaio has been the subject of multiple controversies, investigations, and lawsuits for unconstitutional jail conditions, illegal searches and seizures, racial profiling, abuse of power, election law violations, misuse of taxpayer funds, and the controversial policy of requiring all Maricopa County prison inmates to wear thin, pink-colored undergarments.
In the Ninth Circuit's summary of the case, inmate Charles Byrd was ordered to strip down to his boxers and submit to a search by a female cadet from a training academy who touched his thighs, buttocks, and genital area in a search for weapons and other contraband. The search was performed under the supervision of male guards, one of whom was recording video footage of the entire procedure. The female guard estimated that the search lasted ten to twenty seconds while Byrd claims the search lasted for a full minute.
After filing suit for the violation of his Fourth Amendment right to be free from unreasonable searches, Byrd's case was dismissed in 2009 by a three-judge panel, which considered his search a "pat-down" because he was wearing boxers, and cited previous case law allowing female guards to pat down clothed male detainees. But after appealing the case again, Byrd received a hearing before the full Ninth-Circuit Court, which ruled this Wednesday that cross-gender searches of private areas are inherently degrading, and therefore "unreasonable" in non-emergency situations with same-gender staff readily available to perform the search.
The dissenters in the court's close decision argued that the female cadet's search was a "pat-down" and not a full "strip search" that exposed any of Byrd's private areas. Speaking for the minority opinion, Judge N. Randy Smith noted that the cadet performed the search professionally and emphasized a deference to the judgment of the jail staff regarding its security requirements, saying, "Prison officials know better than a panel of judges how to run a prison."
But, certainly prison officials might not know better than a panel of judges what constitutes a legal violation of a person's constitutional rights. Imagine that a female inmate had been subjected to the exact same search by a male cadet, and it should become clear how the majority's opinon in this case will serve as an important protection for inmates of either gender. No prison inmate should have to suffer the acute psychological trauma that can result from unwanted genital contact by someone of the opposite gender.