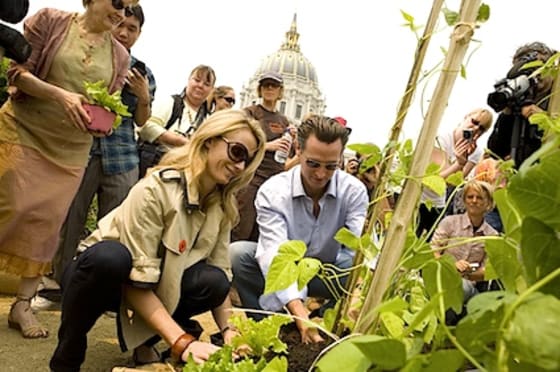 San Francisco leads the way in the local, sustainable food movement. Several city ordinances, however, have prevented more urban food producers from cropping up. Mayor Gavin Newsom hopes to change this. His office is proposing an amendment to the city code which would permit urban farms in more venues. The amendment would recognize the various scales of urban agriculture from small gardens to larger-scale operations.
Currently, the only agricultural uses regulated by the San Francisco Planning Code are horticulture, plant nurseries, neighborhood gardens and community gardens throughout residential, commercial, and industrial districts. Planning Code 102.34 would define urban agricultural use as either neighborhood agriculture or urban industrial agriculture. The difference would rely on size and certain performance criteria defined in the legislation. Both of the new agricultural uses would be treated as either "permitted" or "conditionally authorized" for all five of the City's districts.
An Executive Directive issued by the Mayor in July 2009 was the impetus for this proposal. Under the "Healthy and Sustainable Food for San Francisco" order, all city departments were directed to pursue the goal of facilitating a local food economy. This includes purchasing from the local foodshed whenever possible.
The San Francisco Board of Supervisors will have to review the proposed changes. The code amendment is currently awaiting approval by the Land Use and Economic Development Committee.