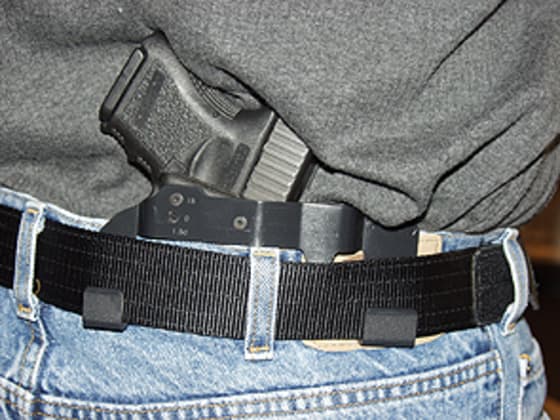 California's gun laws might become more liberal and soon. In a few weeks, Chief Federal Judge Irma Gonzalez will render her decision in the case of Ed Peruta v County of San Diego et al, a decision that could put a stop to "discretionary licensing" by state permitting authorities. As it stands now, California policy enforcers decide on a whim who can and cannot obtain a license to carry a loaded firearm in public. If Ed prevails in his case, California could join the ranks of "shall-issue" concealed carry permit (CCW) states.
When Ed Peruta, a part-time resident of the state, applied for a concealed handgun permit last year, the San Diego County Sheriff denied his request, citing no "good cause." Peruta sued the Sheriff's department and the Sheriff individually in Federal Court under the Civil Rights Act of 1871, namely 42 USC 1983.
The sheriff promptly filed a motion to dismiss the case, but Judge Gonzalez issued an 18 page decision in January which not only denied the motion but indicated a few points of law which, if carried to their logical conclusion in December, will end the arbitrary licensing process for those seeking open and concealed carry permits in counties with a population of 200,000 or fewer.
     "If the judge adopts the extreme minimalist case then, at a minimum, a CCW license becomes non-discretionary, meaning if one has the money and can pass whatever training requirements the issuing authority decrees then one must be issued a license to carry a weapon concealed, or a license to openly carry a loaded weapon in counties with a population of fewer than 200,000 people," writes gun-law expert Charles Nichols.
Judge Gonzalez's verdict will also affect a highly controversial statute which would prohibit Californians (providing special privileges to police) from openly carrying unloaded handguns in populated areas.
     "For those of us who are advocates of Loaded Open Carry we will just have to wait for her ruling," Nichols explains. "It has not escaped the attorney's for Ed Peruta that the same arguments made thus far on behalf of non-discretionary CCW also apply to the provision of the statute which limits the license for loaded open carry to persons who reside in the county as well as limiting it to the less populated counties."
Gonzalez's most important conclusion in her opinion to dismiss the Sheriff's motion was in line with the Heller v. DC verdict, which reaffirmed we have a constitutionally protected right to carry loaded firearms in public for self-defense purposes.
Open Carry advocates look forward to the outcome of this case but realize its success will only lay the groundwork for further litigation, which they hope will guarantee all California citizens their right of carrying a loaded handgun, concealed or otherwise, in public places, regardless of population demographics.