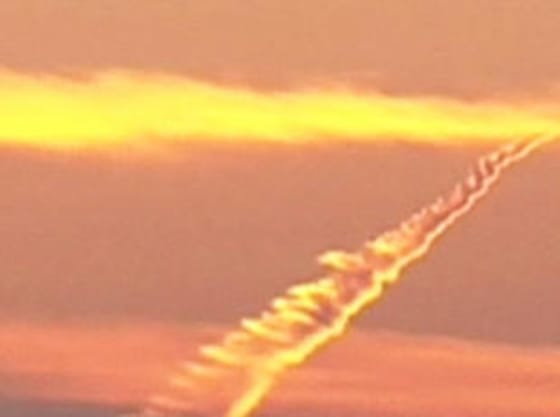 As Los Angeles commuters were making their way home Monday evening they were treated to a spectacular site.  Around sunset, a large missile emerged from the Pacific Ocean north of Catalina Island and about 35 miles out to sea and rocketed skywards. A local station's traffic helicopter captured a brief video of the missile, with a substantial contrail, disappearing into the stratosphere, en route to Asia.
At this point in time, these are the only facts we, the American public, know. Amazingly enough, Pentagon officials claim that no one in the military is aware of the reason or the party behind the launch.
Let that sink in.
Tuesday morning, NBC News Pentagon correspondent Jim Miklaszewski reported that it does appear "a substantial missile was launched into the skies over Southern California Monday evening but no one in the military is owning up to it yet." In fact, no one in the Pentagon has yet determined what the object was. Miklaszewski assured viewers that it could not have been a planned military launch, because no branch had planned military action that day.
Officials at Vandenberg Air Force Base denied launching a missile Monday and said the facility's last launch was a satellite on Friday. When questioned by the LA Times, Naval Base Ventura County spokeswoman Teri Reid speaking for activities at Naval Air Station Point Mugu said, "It didn't happen here. There was no firing on the range yesterday."
A spokesman for the Federal Aviation Administration said the agency did not approve any commercial space launches in the area Monday, while a statement issued Tuesday by the North American Aerospace Defense Command (NORAD) and the U.S. Northern Command, which operates the missile warning system for both Canada and the U.S. read: 
"We are aware of the unexplained contrail reported off the coast of Southern California yesterday evening. At this time, we are unable to provide specific details but we are working to determine the exact nature of this event."
As if to assuage public fear, a NORAD spokesman added, "We can confirm that there is no indication of any threat to our nation and we will provide more information as it becomes available."
According to sources at NBCSandiego.com: "A possibility is that the missile was launched unintentionally. It may have been a screwup. Someone may have simply punched the wrong button." If that's the case, this would be the second time in three years that military personnel would be blamed for "losing" armaments. In August of 2007, it was reported by Military Times that as many as six W80-1 nuclear warheads armed on AGM-129 Advanced Cruise Missiles (ACMs) were "lost" during a cross-country journey from U.S.A.F Base Minot in North Dakota to U.S.A.F. Base Barksdale in Louisiana.
Other "expert" theories about the launch include it being perpetrated by amateurs simply to create an amazing display or that it was not a missile at all, rather a jet contrail (some say an aerosol "chemtrail") that, because of a zany optical illusion, indicated a missile firing.
Former Deputiy Secretary of Defense and former US ambassador to NATO, Robert Ellsworth, speculated that the object could have been an intercontinental ballistic missile test-fired from a U.S. submarine as a military show of force to intimidate Asian countries.
What we do know is that if this was an intentional launch, whoever fired the missile meant for it to be seen by thousands of awed spectators.