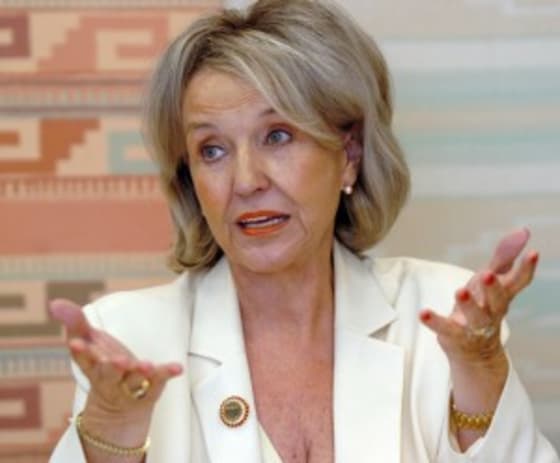 Gov. Jan Brewer, signer of Arizona's immigration law, is finding herself in some deep water due to her recent mishaps. Just this past week, the Arizona governor embarrassed herself in her first gubernatorial debate. Furthermore, some believe this could very well weaken the case for the necessity of an Arizona-like illegal immigration law.  
According to AOL News, Brewer struggled to summarize her accomplishments for her state and thus portrayed herself as being unprepared for her challenge against Democratic opponent Terry Goddard.   The video of her fumbling has now gone viral and her opponent used Brewer's shortfall as a major advantage to challenge her qualifications. 
Aside from the fact Arizona faces a budget shortfall of $700 million, Goddard took the governor to task over playing up the circumstances surrounding the justification for the Arizona law.   Goddard accused Brewer of lying about crimes supposedly committed by illegal  immigrants, primarily referring to her claim of headless bodies in the Arizona desert.  Brewer later said that the headless bodies claim ended up not being true and said that she misspoke about the situation. 
To the joy of left-leaning blogs and pundits, it seems as if the snowball effect has ensued for the Arizona governor and that her return has become endangered.   To add to her misery, they attempted to link Brewer's support for the Arizona immigration law to a conflict of interest, implying that two of her advisers could very well financially benefit from the law.   According to Think Progress, a blog that's a project of billionaire George Sorros'Center for American Progress, it was pointed out that two of Brewer's top advisers have connections to a private prison corrections management company.   According to the official website of the private prison management company, they specialize in the "design, construction, expansion and management of prisons, jails and detention facilities, as well as inmate transportation services through its subsidiary company TransCor America. " 
Brewer may certainly lose a lot of credibility due to her carelessness, but that doesn't negate the importance of Arizona having a strong illegal immigration, no-tolerance policy. While the claims of illegal immigration were misstated or misspoken, that in no way subtracts from the importance of securing the borders.   Arizona's residents overwhelmingly supported the law because they know and have experienced firsthand, crime that has spilled over the border. In addition, Brewer's misstatements do not take away from the fact that illegal immigration in Arizona is actually down since she signed the law into effect, according to the Arizona Daily Star. 
If illegal immigration wasn't still a problem facing the US, then President Obama wouldn't have taken steps toward remedying it through signing a $600 million border security bill.   Furthermore, the perpetual problem that illegal immigration poses to the US is given greater credence by the fact that 22 states are considering a law similar to Arizona's.