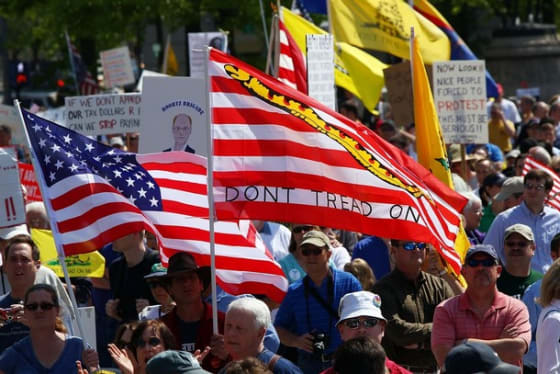 The Tea Party could make a big impact in Congress, unless rival political factions successfully paint the largely independent-minded voter movement as being driven by racism in the controversy surrounding illegal immigration. 
The liberal leaning Huffington Post wrote in August that Tea Party activists held a rally in support of the Grand Canyon State's controversial law.  The HuffPost reported that just around 400 protestors gathered together for the sake of urging President Obama to devote more resources to defending Arizona's border.  The protest, held just a little over two weeks ago, happened as President Obama signed a new border security bill, allocating 1,000 more troops to the border and providing some communications equipment to aid enforcement officials in their efforts to push back illegal immigration. 
The conservative leaning Washington Times said that the Tea Party contingency that showed in Arizona two weeks ago encompassed a broad coalition of Tea Party groups.  What's interesting to note is that since the Arizona immigration law shot to the surface a few months ago, it has caused quite a stir among the Tea Party movement.  
While the people-powered movement has been very passionate about illegal immigration, it is unfair to portray them as being obsessive and fixated on this issue.  After all, the one issue that sparked the post-Obama Tea Party was the call to action by one television personality to protest the growing rate of government intrusion into people's lives. 
Illegal immigration will, nevertheless, continue to remain a concern of the Tea Party. This so much so that the Tea Party's stance on the issue is still stirring conversation within writing circles of prominent political magazines.  As such, the left continues to deride the Tea Party's stance on the issue, labeling their stance as racist. 
John A. Farrell of U.S. News & World Report noted that illegal immigration is currently down and then used this opportunity to attack the Tea Party as a racist element, saying that we can: 
     "study what enforcement methods are most effective, and otherwise use our brains to come up with an immigration policy that builds on this progress, or we can ignore the evidence that things are improving and keep whining and moaning about taking our country back from dark skinned babies. After all, it feels so good to be stupid." 
On the other side of the political aisle, the issue isn't really about race at all, according to conservative commentator Jim Bender who calls the racism charge "irrational." 
     "Who in their right mind would learn about such criminals entering the U.S. and yet do nothing to secure the border? What is the ulterior motive of the groups trying to end the immigration debate by crying racism?," he asks. 
Agree or disagree, the Tea Party is certainly driving the conversation on some of the most pertinent issues of the day, giving a glimpse into how effective the movement has become.