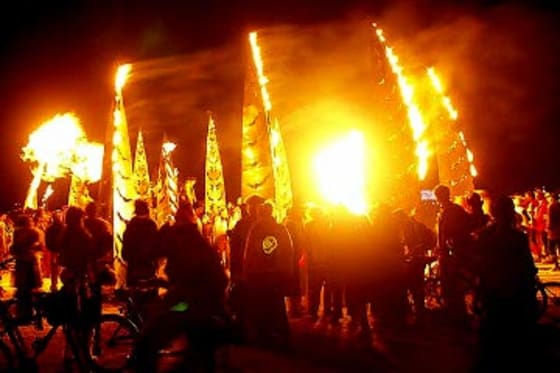 Black Rock City, Nevada - I'm reporting from the fifth largest city in Nevada, although you won't find it on any AAA map or GPS setting. BRC, as it is often referred to by its 45 to 50,000 "citizens," is a community that could best be described as evanescent. Alive with activity for a single week in late summer, it disappears without a trace from its desert location right after Labor Day. But in the minds of those who attend the annual Burning Man Festival, Black Rock City lives on throughout the year.
Burning Man is a singular piece of Americana that has always been California-centric despite its Nevada location. It began on a lark in San Francisco 25 years ago, and has passed through some rough and tumble stages on its way to becoming an iconic annual ritual. Today's Burning Man is sophisticated compared to early editions, although most people would still find it raw and uncompromising.
There's still no outside power, no phone service and no RV hook-ups. But the thousands of porta-potties are fairly well maintained these days, and the generator- and solar-powered "grid" has grown in complexity every year.
There is no commerce to speak of at Burning Man. Once you've purchased your ticket, everything else at the Festival is free. It's called a "gifting economy," in which everyone contributes what they can to the community and asks nothing in return. This system is not to be confused with bartering, where goods and services are traded for other goods and services. People bring their skills, their creative output, or their liquor cabinets to the playa and give them away.
For example, some of the top massage therapists from the Bay Area come to Burning Man annually. Any citizen can sign up for a massage at no charge. Other Burners open up free bars, pancake houses, tee-shirt silk screening operations, or clothing boutiques with nary a price in sight. That anti-consumerism spirit is one way Burning Man turns the world on its head for the week. But there are many more ways you know you're not in Kansas anymore once you've passed through the Festival's gates.
Burning Man's openly counter-culture environment is punctuated by the sex, drugs and rock 'n' roll of the 1960s, but its heart and soul is art. Accessible, whimsical, serious and sensual, the art of Burning Man rises starkly above the flat, alkali desert surface with neither the trappings nor restrictions of a museum. Art at the Festival is meant to be touched, climbed on, interacted with and even operated by the viewers. Some pieces reach hundreds of feet in height, some weigh thousands of pounds, and some are mobile and will transport you across the desert.
It's not easy to attend Burning Man. The desert environment is harsh and marked by monumental dust storms that cause blinding white outs. Goggles and face-masks are de rigueur. Your sensibilities can be challenged. Perhaps 20 percent of the attendees are nude, a higher percentage are in a state of partial undress. Many of the dressed people wear bizarre costumes based on movie characters, superheroes, birds and animals, or a personal fantasy. There's a surprise around every corner. Drugs and drinking are common, but by no means required. Burning Man is a freeing environment in which the only peer pressure is to be yourself.
There's a youthfulness to Burning Man, although it has nothing to do with age. People in their 80s attend, as do children from few months of age. I didn't even begin going to Burning Man until I was 60, and I always feel younger when I get home.
I'm not wed to the concept of going to Burning Man yearly, although I'm currently attending my sixth straight Festival. When it's no longer fun, I'll stop going. But for now, it's the most fun you can have with your clothes on … or off.