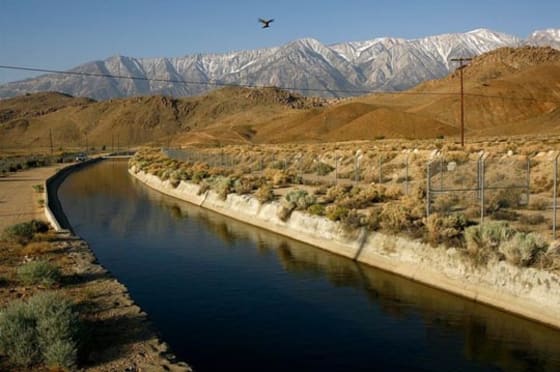 Late spring storms, a heftier Sierra snowpack, and higher reservoir levels have largely made Californians believe the state's record dry three-year drought is over.  But, despite a year where, through May, rainfall is 107 percent of average – up from 76 percent of average in 2009 –dry conditions remain in parts of the state. 
And, even with more rain, a variety of major threats still remain to the state's water supply and its reliability. Among them: an aging levee system, continued groundwater overdrafting, declining ecosystems, and climate change.  Solutions to these threats are complicated and one solid year of rain in four isn't a major factor.  In fact, as some observers have noted, a more abundant amount of water might lead to a "false sense of security" and reduce the urgency of addressing the state water system's myriad needs. 
Both the State Water Project and the U.S. Bureau of Reclamation's Central Valley Project increased their water delivery levels in June – the state to 50 percent of demand and the bureau to 40 percent.  After a third year of below average rainfall, each agency began 2010 delivering just 5 percent of requests for water, a record low for the state.  At the beginning of the new water year, which runs from October 1 to September 30, key state reservoirs were at 69 percent of average. 
An occasional hand-lettered sign from last year accusing Congress of creating a "dust bowl" still remains on fallow farmland along Interstate 5 in the agriculture-heavy Central Valley.  Fifteen months ago, there were dozens of signs after the central valley project turned off the spigot to most of its customers. The state limited its deliveries to 15 percent of demand.  The move helped fallow 500,000 acres of farmland. A University of California forecast at the time said doing so could cost as much as 80,000 jobs and over $2 billion in lost revenue. 
More than 60 water agencies around the state imposed mandatory conservation requirements.  Since then, reservoir storage has improved to 101 percent of average. Lake Shasta is at 95 percent of capacity. Don Pedro Reservoir near Yosemite is at 97 percent.  However, some important reservoirs, like Lake Oroville are at 76 percent of capacity. 
Despite the increased rainfall this year, San Luis Reservoir near Los Banos and New Melones Lake near Angel's Camp in the state's Gold Rush Country stand at only 62 percent and 58 percent of capacity, respectively.  Court rulings also require certain flows be maintained for fish in the Sacramento-San Joaquin Delta which the state estimates will hold back some 800,000 acre feet from users south of the Delta. 
     "Even with a return to normal precipitation and reservoir levels and an above normal Sierra snowpack, (state) water deliveries will remain limited due to current restriction on Delta pumping to protect native fish species," the state Department of Water Resources says in it's June Drought Update. 
An acre-foot is the amount of water needed to cover one acre with one foot of water – nearly 326,000 gallons of water. That's about what a family of four uses in one year.  At the end of September 2009, the state's reservoirs held 17 million acre-feet. In May 2010, they held almost 28 million acre-feet. 
Last November, lawmakers and Gov. Arnold Schwarzenegger agreed on a package of legislation they claimed was "historic", aimed at restoring the Delta and creating a more reliable state water supply, through increased conservation, improved enforcement, and better monitoring of groundwater.  An $11.1 billion bond to pay for the improvements sought in the legislation was placed on the November ballot. Fearing voters would reject the proposal, on August 9, lawmakers pulled it from the ballot, pushing to the November 2012 ballot.  "Voter research confirms that when educated on the need and benefits to their local community and the economy, voters will support the water bond," said Allan Zaremberg, president and the California Chamber of Commerce in praise of the delay.  "We must have the time it will take to raise revenue and ensure that voters understand what is at stake."  Revenue from the bond was earmarked to address California's longer-term water issues which are assessed in the state's five-volume California Water Plan 2009 Update. 
Not the least of the threats identified in the plan, which has been updated every five years since 1957, is climate change.  Over the past century, Sierra snowpack – California's largest surface water storage – has declined by 10 percent, some 1.5 million acre-feet, and is projected to decrease by another 25 percent to 40 percent by 2050.  Sea level has risen 7 inches over the same period. 
Climate change also increases the frequency and intensity of floods.  The water plan also notes that each year, on average, 2 million acre-feet more groundwater is used than what naturally recharges. This "overdraft" is "characterized by groundwater levels that decline over a period of years and never fully recover, even in wet years," the water plan says.  Nearly 2 million Californians live within areas that can expect to flood on average once in 100 years. And more are moving there. Sacramento has one of the lowest levels of flood protection of any major city in the nation. 
The state's levees are also aging and maintenance has not kept pace. The system – some 1,100 miles worth in the Central Valley – contain design and construction shortcomings.  Salmon, delta smelt and other species in the Delta are at record lows – despite court orders setting aside water to help them recover. 
The water plan points out that rainfall, "the root of California's water supply," varies from "place to place, season to season and year to year."  Most rain falls in the mountains of the north and eastern parts of the state. But, most water is used in the valleys and along the coast.  The state's most recent Drought Update illustrates this "variability". 
While reservoirs' storage statewide stands at 101 percent average, the Department of water Resources says that will still "leave many communities, farms and businesses with limited alternative supplies."  Despite the increased rainfall, the state estimates 5,067 to 5,539 jobs will be lost in the San Joaquin Valley. Income losses could be as much as $365 million.  Because state and Bureau of Reclamation water deliveries still only present half of demand, San Joaquin Valley farmers will substitute groundwater, increasing pumping costs by some $105 million. 
Drought conditions still persist in the Klamath River Basin "severely" impacting water users in Oregon and California, the Drought Update says.  Because of drought, Fresno County is conducting an emergency food distribution program.  Even with above-average rainfall, "water managers across Southern California are aware that water supply shortages are not over," the Update says. 
     "Local water agencies are educating the public about water supply conditions and that shortages are likely to continue into the foreseeable future due to environmental challenges in the Sacramento-San Joaquin River Delta.  "They are also emphasizing that next year could be dry and many of the local major reservoirs have yet to recover." 
And while April and May storms "significantly improved water supply outlook … allocations remain low in some major service areas south of the Delta and below average water supply conditions still persist in Klamath and Lake Tahoe basins."