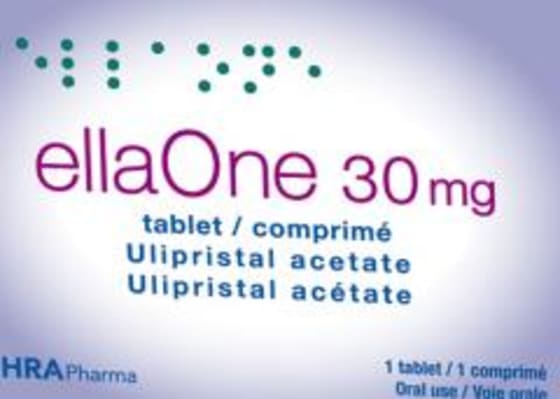 Late Friday afternoon, the U.S Food and Drug Administration (FDA) announced approval of a new option of emergency contraception known as ella.  Already available to women in 22 countries, ella provides women with the option to prevent pregnancy up to 120 hours (or 5 days) after unprotected sex.
A federal advisory panel recommended ella's approval in an 11-0 vote back in June. Emergency contraception currently available to American women – Plan B - prevents pregnancy up to 72 hours after unprotected sex. Unlike Plan B, however, which is available without a prescription for women 18-years old and older, ella will require a prescription from a physician. It is expected to be available at the end of 2010. 
In a Washington Post article, Kristen Moore, president of the Reproductive Health Technology Project succinctly summarized the FDA's move: 
     "Women's health advocates appreciate that the review process for ella was consistent with standard FDA procedure and based on scientific evidence, not politics. Approval of ella is further evidence that the FDA is committed to restoring scientific integrity in its decisions."
What Ms. Moore was alluding to was the Bush Administration's overruling of FDA scientists, delay in the decision to make Plan B available to women over the counter, and barring of the availability to women under 18 unless they had a prescription. 
Upon ella's approval, the anti-abortion movement quickly denounced the decision charging that ella is the same as a medical abortion. "Ella is an abortion drug," said Wendy Wright, President of Concerned Women for America. "It operates the same way as RU-486, the abortion drug. Many women may be comfortable taking a contraceptive but would object to taking an abortion drug." 
The FDA claims that ella prevents pregnancy by preventing or inhibiting ovulation. It will not work if a woman is already pregnant. The data also shows ella to be more effective at delaying ovulation than other methods of emergency contraception during the time when women have the highest chance of getting pregnant, may experience contraceptive failure, and are most likely to be having sex. Mifepristone (a medical abortion), on the other hand, dislodges an implanted egg from the uterus up to 49 days into gestation. 
Approximately six million pregnancies occur in the U.S. each year, half of which – nearly 3 million – are unintended. Given this staggering number of unintended pregnancies, I believe the news of ella's approval is welcome news. When women spend the majority of their reproductive years avoiding pregnancy, it would seem reasonable to continue to pursue and bring to the market every available option so that all women can plan when and whether to become a mother.
*  Editor's note:  Readers should also consult the attached PDF release from the FDA detailing warnings associated with ella.