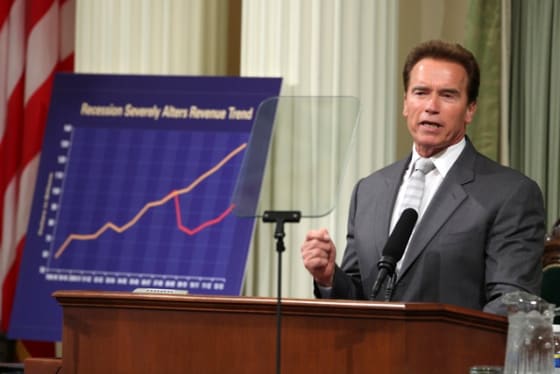 Governor Schwarzenegger made national headlines this week after the governor's Department of Personnel Administration issued an order to withhold the pay of state employees up to the legal limit- which is the Federal minimum wage of $7.25 an hour. Placing 200,000 of California's state employees on minimum wage was the latest move in a long battle over California's budget.
Last month, the Legislature missed its Constitutionally-mandated deadline to pass a budget, with policymakers reeling from the enormous, seemingly impossible task of bridging an approximately $19 billion deficit. Now Schwarzenegger is refusing to spend money that hasn't been appropriated to pay state workers.
But critics see this as more than fiscal austerity because of the exemption the governor's order makes for roughly 37,000 state employees, who will still be receiving their full paychecks, not minimum wage. They all happen to be in the six bargaining units that have agreed to Schwarzenegger's labor deals, including pension and pay concessions, sending a clear message to other unions: agree to the governor's labor concessions, or don't get paid.
Bruce Blanning, executive director of the 11,000-member Professional Engineers in California Government, said that:
     "It appears that the governor has taken a constitutional budget issue and reduced it to a bargaining ploy. He's saying that if you're one of the six groups that have signed a contract, if you've agreed to a contract with him, then you get your salary. If you didn't, he wants you to get minimum wage."
That could be part of why Controller John Chiang, who received Schwarzenegger's letter earlier this week, refused to comply with it unless a court ordered him to, saying that " absent a final court ruling, I will continue to protect the state's finances and pay full wages earned by state employees."
Chiang got that ruling Friday, when the 3rd District Court of Appeals in Sacramento ruled in the governor's favor. But Chiang is digging in, arguing that the state's computerized payroll systems are too complicated to make an immediate change of the kind Schwarzenegger is requiring. The governor's office disagrees, with one spokesman saying "[Chiang] has been in office three-and-a-half years. That is more than enough time for him to have figured out how to do his job."
While the governor's intention of cutting waste from a bloated deficit, and putting pressure on legislators and unions to come to an agreement and finally pass a budget is laudable, there can be no doubt that his method is hurting state workers and families that have come to depend on the state for their paycheck.