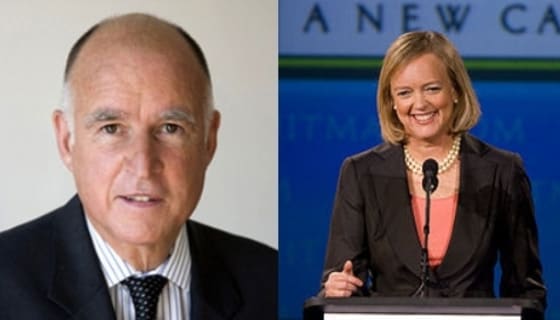 The 2010 race for California's next governor may simply come down to the type of leadership that voters believe can get the state out of its current fiscal mess -- an experienced politician or a successful corporate executive. 
On the Democratic side is Jerry Brown, an old school lawmaker who has been deeply immersed in California politics for decades. Following in his father's footsteps, Brown has already served two terms as the state's governor in the 1970-80s. Currently California's Attorney General, Brown has also held the position of Secretary of State and the Mayor of Oakland. 
The man seeking his third term as governor is well known for his brash statements and frugal ways as both a public servant and private citizen.  When noting the difference between him and his Republican opponent Meg Whitman, Brown stated, "I travel Southwest, she has a private jet." It was reported that he also questioned the fiscal conservatism of Whitman, who spent more than $80 million of her own money to win a primary stating, "She handles money one way. I handle it another way — far more frugally." 
Brown has strong support from unions and is known for being tough on crime. He has also been a long-time proponent of solar and other alternative energy long before it was fashionable. Brown has aggressively worked to implement the Global Warming Solutions Act now being opposed by Texas-based oil companies, and sued the Bush Administration when it blocked California's tailpipe emissions standards. While Brown has not released specific plans on how he would deal with the state's $20 billion budget deficit, he has indicated that program cuts will have to be made and has promised not to raise taxes unless the voters approve. 
As for electability, Brown's age and experience may put him at a disadvantage with the current anti-incumbent mood among the electorate. Moreover, while $20 million in the bank for the general election is impressive, it is a far cry from the money at the disposal of his opponent. 
On the Republican side is billionaire and former eBay CEO Meg Whitman. From an upper middle class family in Long Island, NY, Whitman attended Princeton and Harvard Business School, working for a number of international corporations like Procter and Gamble, The Walt Disney Company, Dreamworks and Hasbro before joining eBay in 1998.  She joined eBay when it had just 30 employees and $4 million in annual sales.  When she resigned as CEO in 2007, the company had grown to 15,000 employees, generating $8 billion in annual revenue.  She was inducted into the U.S. Business Hall of Fame in 2009 and Harvard Business Review's eighth best performing CEO in the past decade. 
Running on her corporate experience, Whitman promises to cut business taxes, reduce "waste and fraud", and eliminate 40,000 state workers to solve the state's fiscal crisis. She also promises to boost spending on education, specifically for charter schools, and supports the Texas oil companies' campaign to suspend the state's Global Warming Solutions Act. 
To win the Republican primary, Whitman spent a record-breaking $80-plus million ($71 million of her own) to defeat Insurance Commissioner Steve Poizner and has promised to spend $150 million, possibly more, to get to the Governor's mansion. Yet, despite her current interest in running the largest state in the nation (and one of the world's largest economies), it has been revealed that Whitman did not vote for 20 years. 
Even with a significant monetary advantage and an anti-incumbent mood in the state, this is far from a slam dunk for Whitman.  Voters currently possess an anti-corporate attitude right now as well, and often reject candidates that give the impression they are trying to buy a seat. 
After winning their respective primaries, Brown challenged Whitman to 10 townhall debates between now and November. To date, Whitman has only committed to one debate in October.  Whitman, on the other hand, has released her public policy positions in a 46-page booklet and has challenged Brown to do same. 
To be certain, California has reached a fiscal breaking point that will require a serious and committed Governor who will have to work with the legislature to make difficult choices. Let's give the voters the information they need to make their choice starting with 10, unscripted, unedited debates and the release of substantive documents that give details on each candidate's policy positions.
The California voters deserve nothing less.