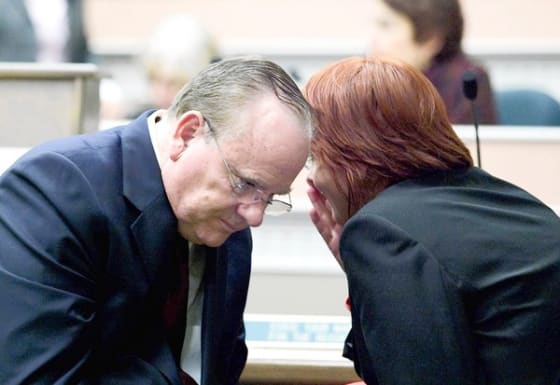 The California budget for the fiscal year starting in July is $19 billion short and the dire truth is no one has a clue where the money will come from, if indeed it can be found at all. That's what no one is talking about - not commentators, not politicians, and most especially not even the major candidates for governor. What happens if (or is it 'when') California can no longer meet its current obligations and then defaults?

This could easily happen. After all, if you've already slashed budgets to the bone and still need billions more, then bankruptcy becomes a distinct possibility. But states can't file bankruptcy. There is no provision in the law that allows them to do so. 
But if California stops paying its bills, then that would effectively be bankruptcy even if not legally recognized as such. It would also be an immense legal and financial black hole that would unquestionably lead to further chaos.

Of the major candidates for governor, Steve Poizner has the most detailed plan for the budget on his website while Meg Whitman dances around it without much substance, and Jerry Brown has nothing, absolutely nothing, about it. But Poizner and Whitman present long range plans to grow the economy without saying anything about how to balance the budget now or how to avoid default.
There's a sense of unreality from all the candidates. I suggest that things are much more perilous than they are letting on and that perky plans to re-build the economy by cutting taxes and slashing spending don't deal with the crushing immediate problem – where to get that $19 billion.

CalPERS, the biggest public pension fund in the country, blinked last week after Schwarzenegger's speech targeting them, saying they would postpone a $600 million rate increase. In terms of the budget, CalPERS is problematic, because they have the legal authority to force the state or any municipality to make up any shortfall they are facing.
Schwarzenegger said eight years ago, the state was paying CalPERS $150 million a year. Now it's over $6 billion a year. This is not sustainable, and he said major pension reform must be part of the new budget or he won't sign it. This is probably while CalPERS flinched, temporarily forgoing $600 million in hopes of fending off pension reform.

Welfare is where the most drastic cuts will occur. The current plan is to completely eliminate the CalWORKs welfare-to-work program. If CalWORKs is killed, then California will become the only state without a welfare-to-work program, forcing many to quit jobs because they would no longer have child-care subsidies, as well as eliminating jobs for state workers who run the program.
There are a staggering 1.4 million people on CalWORKs and two-thirds of them are children. Homelessness and begging on the streets are almost certain results of eliminating the program. Budgets cuts like this bludgeon the most vulnerable. But then, they don't vote much or give campaign contributions, do they?

The nonpartisan California Legislative Analyst backs targeted tax increases rather than gutting welfare and child care. These increases would not be sales, income, or corporate tax increases but from raising community college fees, oil drilling revenue, suspending corporate tax decreases, and increasing vehicle license fees. While this might be more politically palatable, how can this make up a $19 billion deficit?

State officials are punting the welfare issue to local governments, saying it will be up to them to pay for it. But those municipalities and counties are scrambling for money too.

California is also currently facing multiple lawsuits from educational groups saying that underfunding is hurting education and violates the state constitution. They want the current funding system scrapped and replaced with one that is stable and sufficiently well-funded.

All of this is just the opening gambits in what will undoubtedly be a bruising, brass knuckle budget fight that will last for months. One hopes they find a solution before California can no longer pay its bills and defaults.