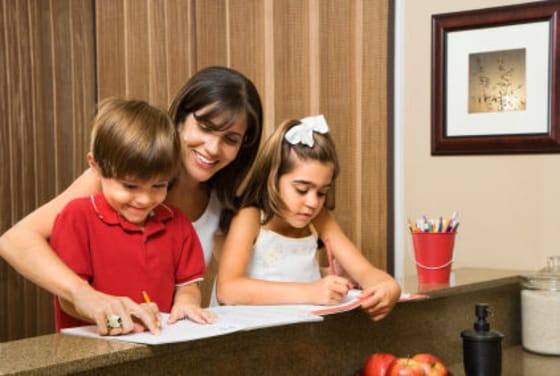 What do most homeschooling instructors look like? Are they mothers, fathers, grandparents, or neighbors? And what is the state of homeschooling in California today?
In February 2008, the Second District California Court of Appeals ruled that a homeschooling instructor must be properly credentialed in order to instruct school-age children at a home course of study. This ruling frightened many parents who had taught their children without needing to show proof of academic qualification.
Within two weeks, the California Department of Education rebuffed the ruling.  In a March 11 statement from Jack O'Connell, State Superintendent of Public Instruction, O'Connell chose to "assure parents that choose to home school that California Department of Education policy will not change in any way as a result of this ruling. Parents still have the right to home school in our state."
While encouraging all educators (at-home and in-school) to best prepare themselves to educate future leaders, O'Connell stayed firm on the idea that tighter home school regulation was off the table.  "Some parents choose to send their children to private schools or to home school, and I respect that right."

Two years later, little has changed. According to the CA Department of Education, in 2010, "California statutes do not explicitly authorize home schooling. Whether a home schooled child is attending a private school, and therefore is exempt from public school attendance, is a decision made by local school districts and law enforcement authorities."
According to the HomeSchool Association of California (HSC), the exact number of students in California who are technically homeschooled is unknown, though the figure could be somewhere between 60,000 and 200,000 students. The HSC, a private organization, believes that children who attend school at home "tend to score as well or better than those conventionally schooled."

This month, the Home School Legal Defense Association sent to Washington D.C. representatives from a majority of U.S. states in favor of homeschooling as a viable alternative to a public education system which many find to be increasingly ineffective.
Homeschool supporters spoke their minds at the HSLDA National Home School Leader Summit, at which they were visited by congressmen and congresswomen, and also lobbied to further their cause.
According to the California Homeschool Network (HSN), homeschooling can sometimes be academically superior to public school education.  The HSN states that "Homeschooled children test above average regardless of income, race or parent's level of education….One significant achievement of homeschooled children is that the National Merit Scholarship Corporation has chosen significant numbers of homeschooled high school seniors as semifinalists."

Still, homeschoolers face fundamental problems, not the least of which is an unofficial recognition of their right to instruction outside of larger educational institutions. In California, parents/homeschool instructors must either be credentialed tutors, must work through their local public school, work through a private school, or establish their home as a private educational institution.
There is no additional option allowing for a parent to simply school their children, nor is there any direct overhead accountability as well.  However, giving parents options, particularly when they fear their local public school is failing, could be viewed as a powerful tool indeed.
While no significant achievement gap has been demonstrated between public school and homeschooled students, homeschooled students must be "exempted" from state and federal regulations in order to be recognized as legally enrolled students.
So readers, what do you think?  Is homeschooling good for California? 
Should it be regulated by the state in some capacity, or should it be left to families and local districts to decide?