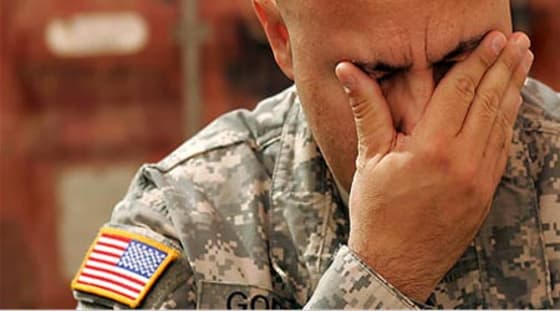 As I outlined in my previous PTSD article, it is clear that the U.S. military is under a tremendous amount of psychological strain due to repeated deployments to Afghanistan and Iraq.  But, the story doesn't end there.  The official statistics also reveal another, even more troubling trend:  the suicide rate among retired and currently serving military personnel continues to spike.
Here are some of the sobering stats*:
"the toll of military suicides last year was the worst since records began to be kept in 1980."
"The surge in suicides, which have risen five years in a row, has become a vexing problem for which the Army's highest levels of command have yet to find a solution despite deploying hundreds of mental-health experts and investing millions of dollars."
"military suicides make up about 20% of all suicides in the U.S., suggesting that the problem is worse among the armed forces than in the general population since veterans make up only about 7.6% of the population."
"The suicide rate among soldiers who have deployed to is higher than for soldiers who have never deployed"
"For every death, at least five members of the armed forces were hospitalised for attempting to take their life."
As the statistics show, there is a suicide epidemic in the military, and despite increased access to mental health professionals and millions of dollars of more funding for psychiatric treatments, the rate continues to rise.  Just as in the case of rising PTSD, it would appear that repeated deployments to extremely violent, open-ended war theaters are the root cause of the problem.
Therefore, I would like to ask readers:  What would you offer as short-term and long-term solutions?
Republicans, Democrats, Independents, and third party supporters, let's hear from you.  Tea Party, Coffee Party, and Liberty movement supporters, what are your solutions?
And why do you think both the Bush and Obama administrations have failed to stem the tide?
*  The sources for these statistics can be found here, here, and here.  Also, to read my PTSD article, click here.