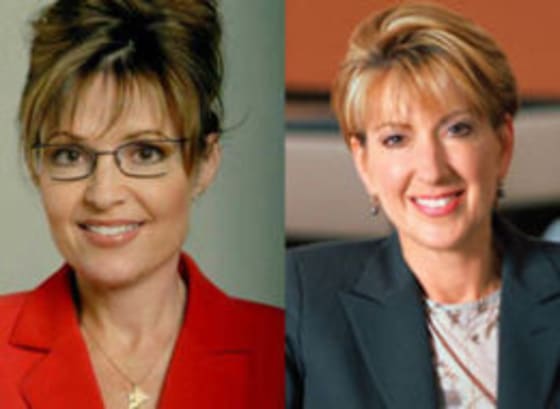 Exerting her star power in a state where a majority is more likely to respond negatively to her in a general election, former governor Sarah Palin has endorsed a surprising candidate in the California Republican senate primary. According to the Washington Post, Palin snubbed her Tea Party fan base, throwing her support behind Carly Fiorina.
One main reason for endorsing Fiorina is because Palin believes the former business woman will return jobs back to California. "She's not a career politician. She's a businesswoman who has run a major corporation. She knows how to really incentivize job creation. Her fiscal conservatism is rooted in real life experience," Palin said in the Post article.
Fiorina took to her Twitter account to proudly proclaim the big endorsement. "I am proud of the endorsement of @SarahPalinUSA," she tweeted.
According to the Post, Devore has been a key favorite among the Tea Party movement, so Palin's endorsement comes as a surprise even to them.
While jobs are currently a primary concern in California, immigration has inevitably also become a dominating part of the discourse between California Republican primary candidates.
The Arizona immigration law can be thanked for shifting the political conversation to the touchy issue. Considering her brand of token conservatism, Palin's endorsement is interesting to examine in light of the immigration debate. Despite Palin's support for the law in Arizona and her rhetoric on tough immigration enforcement, her recent endorsement of certain candidates in border states might cloud certainty regarding her stance on the issue. In Arizona, where the recent strict immigration law was passed, Palin endorsed her former colleague John McCain over the more tough-on-immigration candidate J.D. Hayworth. Regarding McCain's stance on immigration, Politico reports that he held a more lenient view on immigration until only recently.
The switch seems to coincide with an election year where a majority of Arizona residents are concerned with the issue and McCain is in the fight of his life. On the California side, Palin seems to be repeating the same pattern of support with her endorsement of Fiorina. Regarding immigration, Fiorina seems to be putting a tough foot forward to gain favor with the Republican base in whose hands lie the fate of her political destiny. According to the the OC Register, however, Devore said that Fiorina had not specifically come out against amnesty until recently.
Devore also targeted Fiorina in same debate, accusing her of flip-flopping on the issue. Fiorina's position seems to be cloudy at this point. Despite endorsing the Arizona law in an interview with Politico, Fiorina also said that immigration is an issue that she prefers to stay away from right now, instead focusing on jobs.
In the same interview however, she did hint at her support for a guest worker program that actually works and mentioned that there is a racist element in the current border debate. Palin is seeking to stay in the national spotlight with her various endorsements in nationwide races. Given her traditional conservatism, it will be interesting to see how her Senate picks pan out in the general elections come November.