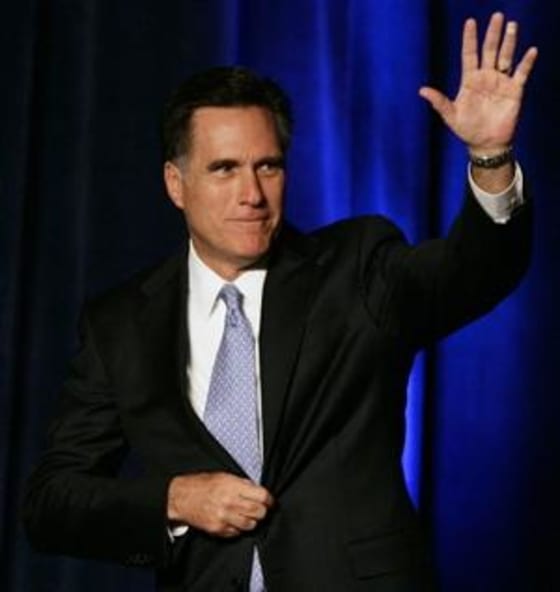 30 years after his first landslide win, President Ronald Reagan remains an electrifying source of inspiration for many leading Republicans. Governor Mitt Romney often cited Reagan as a political hero, and a politician with the right idea.
Reagan, a longtime California resident, Hollywood actor and California Governor, would eventually become the first and only Governor-turned American President from California. Today, under speculation that he is metaphorically suiting up for the 2012 presidential election, Mitt Romney appears to have taken a cue from the Reagan biography, and has begun to call Southern California home, at least part time.

Southern California, particularly beach-adjacent Southern California, is a very desirable retirement spot, for those lucky enough to afford it. Mitt Romney, former Governor of Massachusetts and 2008 Republican Presidential nominee contender, recently bought a home in gorgeous La Jolla, California, and yet, the 63-year-old Romney doesn't seem to be bracing for retirement any time soon.
Romney, who many suspect to be gunning for the 2012 presidential election, has been anything but quiet.  He is riding high with a book tour which has swept him across the nation; additionally, his book, No Apology: The Case for American Greatness, released in March, quickly proved to be a bestseller. And while writing the book, it's no stretch to say Romney had California on his mind.

Those living in San Diego County may one day recognize their neighbor as a powerhouse in politics. La Jolla ("the jewel" in Spanish) is a gorgeous slice of San Diego, surrounded by ritzy and upscale shopping, restaurants and businesses, and is a pricy area in which to live.
According to the Associated Press, Romney paid around $12 million to call California home. This city is located in the predominantly Republican-loving San Diego County. The prestigious University of California-San Diego campus is also located along the La Jolla shores.  
If Mitt Romney is announced as a speaker at UCSD in the near future, one need not be concerned with his transportation. He may be close enough to walk. Romney has been no wall flower in the Golden State; on the contrary, he has been making his indelible mark on its politics.
Just last week, Romney joined up with Meg Whitman, who hopes to lock up the California Republican Party nomination for governor. Romney jetted north to Sacramento for a lunch fundraiser and Redwood City for a dinner fundraiser, and south to Orange County and Beverly Hills to attach further star power to the rising Republican star.
In an April 23 campaign update, Whitman called the Beverly Hills event, in which she was joined by Romney, "another very successful fundraising event." At the Redwood City dinner, Romney's former rival Senator John McCain, Jeb Bush and George Schultz were the other luminaries to whom Whitman has hitched her political wagon. Whitman noted that she was "so grateful for their confidence in our campaign."

So is Mitt Romney fixing to follow in the steps of Ronald Reagan, and become the second governor-turned President from California?
During the 2008 election season, Romney made very clear his respect and admiration for the former President Reagan. In a 2007 interview on "FOX News Sunday," Romney compared his experience as a governor with that of Reagan: "It's exactly what Ronald Reagan did. As governor, he was adamantly pro-choice. He became pro-life as he experienced life."
At the 2008 Presidential nomination convention, in a surprisingly electrifying speech, Romney further expressed his belief in Reaganism as the road map for America, noting that "The right course is the one championed by Ronald Reagan 30 years ago." It is worth noting as well that in the same speech, Romney eschewed East Coast 'elitism,' instead praising the West and its political heavyweights John McCain and Sarah Palin, who composed the 2008 Republican ticket.  He stated, "If America really wants to change, it's time to look for the sun in the West, cause it's about to shine in Arizona and Alaska!"
Is the camera-friendly Mitt Romney looking to become the Ronald Reagan of the 21st century?
If so, La Jolla is a strategically smart place to start.