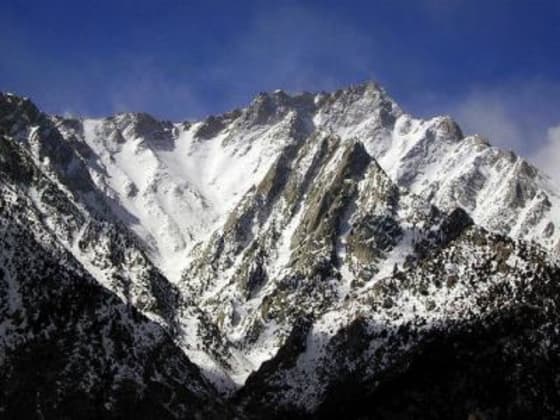 Here in the High Sierras, winter hasn't relinquished its hold on the atmosphere.  A snowstorm during the first week in April dumped as much white stuff on the top of cars and roofs as any this year.  More snow is possible next week.  And while spring peeks its head through the clouds more and more frequently, there seems to be no end to the season of powder days and perfect skiing.  Tahoe has looked a lot like Colorado this year.

What makes all of this good for California is the snowpack, which now measures over 100 percent of normal for the first time in four years.  And because the measurements were taken before the April surprises, we don't yet know the full degree of improvement in California's water supply.

But all experts agree that this season of voluminous precipitation won't be adequate to refill the state's parched reservoirs.  Lake Oroville, one of California's major sources of drinking water, remains less than half full.  Even Lake Tahoe continues to look far lower than normal, and well-below the amazing depths that occurred just before the three-year drought began.
 
What's behind our water problems is far more complicated than annual snowfall.  A recent op-ed in the Wall St. Journal contended that the state's water shortage is a man-made issue, and then went on to lay the problem at the feet of environmentalists and their concern for a fish known as the delta smelt. 

"As a result," the article went on to state, "tens of billions of gallons of water from mountains east and north of Sacramento have been channeled away from farmers and into the ocean, leaving hundreds of thousands of acres of arable land fallow or scorched."

The firestorm of comments that followed this WSJ piece makes clear that the author's point of view is only one of several possibilities, and that there is as much contentiousness over water now as there was when Jake Gittes investigated a murder associated with Los Angeles water rights in the 1974 movie classic, Chinatown.

"Can you believe it?" says one character in the film. "We're in the middle of a drought, and the water commissioner drowns. Only in L.A."

Droughts, water shortages, and contentious town and country battles over who gets the precious liquid have been part of the California ethos for decades, and are likely to continue unabated long into the future.  So is the tension between the state's more liberal cities (Los Angeles and San Francisco) and its more conservative agricultural communities (particularly the San Joaquin Valley). 

The Department of Water Resources (DWR) recently increased its state water project allocation from 15 to 20 percent – still well below the finally 40 percent for last year.  That number could eventually equal the 2009 total, but is unlikely to go higher.

"We've had a hit and miss nature to storms this winter, and that has left the State Water Project in not as good a position as we would like to be and perhaps worse than you would expect based upon those fairly good numbers regarding snowpack and precipitation," said DWR Director Mark Cowin at a press conference at the end of March. "Remember that we started this winter with very poor carry over storage in most of our key reservoirs."

In a state known for its bounty, shortages have become the coin of the realm.  But it remains almost unfathomable that the Sierra ski slopes are still skiable this late in the season while California contemplates another summer of restricted water supplies.