With City's Budget Shortfall, San Diego Charities Prepare for the Worse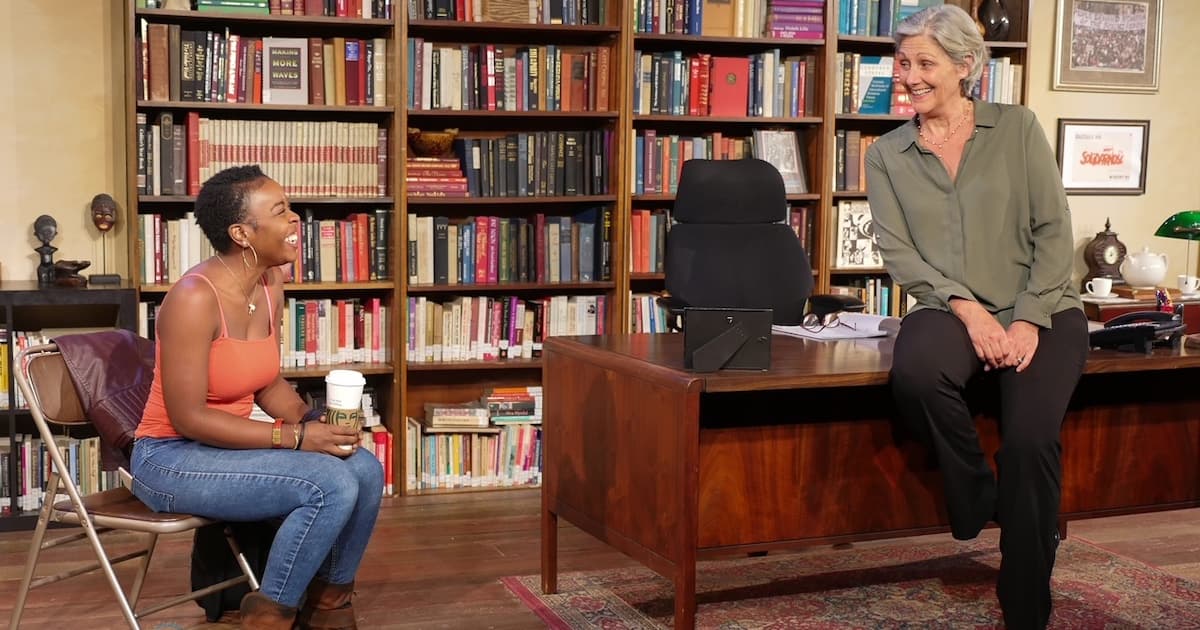 Created: 30 November, 2020
●
Updated:
14 August, 2022
San Diego native Deja Fields said Moxie Theatre changed her life six years ago when she was a junior at San Diego Creative and Performing Arts. The small Rolando theater with a mission to empower women in the theater and arts industry cast Fields as Ermina in "Crumbs from the Table of Joy."

"Moxie helped fuel my career during a pivotal time in my life," she said. "It was the first role that I felt like a real actor. I was doing the work that I was called to do."

Fields, who has since appeared in a handful of productions, said her career came full circle when she returned to Moxie to star in its production of "The Niceties." She said she returned to Moxie because of the nonprofit theater's mission to "dedicate themselves in telling the stories of women."

If Moxie, however, endures further budget cuts stemming from the pandemic, including funding cuts from the city of San Diego — its mission is at stake.

"[The city of San Diego] is the single largest contributor to Moxie Theatre," Jennifer Eve Thorn, who co-founded the theater and serves as its executive director. "To know this cut may come is really terrifying. Now is not the time for women to take a step back."

Thorn, along with other nonprofit leaders that rely on city funding, are bracing themselves for cuts after officials recently announced a projected $86.1 million shortfall next fiscal year. What's worse is projections show shortfalls in subsequent years as COVID-19 and government restrictions take a toll on businesses and tourism.
‍

The Numbers

The city's four major general fund revenue streams include property tax, sales tax, transient occupancy taxes (hotel taxes) and franchise fees. Although property taxes increased from $506 million in fiscal year 2017 to $609 million in fiscal year 2020, which runs from July 1 to June 30, the city saw a drop in sales tax and transient occupancy tax revenues (see chart).

https://infogram.com/city-of-san-diego-revenue-fy-2017-to-fy-2020-1h1749vlj117l6z?live

The city saw the biggest drop in transient occupancy taxes with health orders recommending people only travel for essential work and services. During fiscal year 2020 in the first quarter, the city saw $28 million in revenue. In the same period of fiscal year 2021, the city saw $11 million in revenue (see chart).

https://infogram.com/san-diego-revenue-for-q1-in-fy-2020-and-fy-2021-1h984wo3g75kd6p

During the 2009 recession, the city experienced a $60 million shortfall in overall revenue that led to cuts throughout different departments, including a 6% salary cut across the board. Residents also saw changes to maintenance work, cuts to library hours and the deferral of certain projects. The city also experienced a variety of cuts across different departments this fiscal year.

When it comes to the following fiscal year, residents may see the same cuts, Councilmember Chris Cate said.

"In difficult, economic times like what we experienced back in 2009, there is definitely a chance that various services would be reduced," he said. "There are services that are the utmost importance to our residents — public safety or public infrastructure — that will be prioritized but it's up to councilmembers to effectively determine that."

Cate said he isn't sure whether the police department will see major cuts despite current calls to reduce police funding. Earlier this year, the City Council heard from thousands of residents who were critical of the decision to increase police funding by $27 million.

"I'm a personal supporter of PacArts," Cate said of the organization that runs the annual San Diego Asian Film Festival. "Unfortunately, decisions we have to make are difficult but we have to prioritize funding. I'm going to vote for core services versus arts and culture. In my district, my constituents want officers who are going to respond to calls. They want response times to be quick."

There are some areas the city could pull money, Cate said, including city reserves and the Measure H infrastructure fund, which could be used in emergencies.

City Hall insiders also said there's hope that the federal government will pass another stimulus plan such as the one passed earlier this year that gave San Diego a $270 million boost. The aid partly offset a $350 million projected deficit at the time.

Councilmembers Vivian Moreno, Jennifer Campbell and Monica Montgomery-Steppe declined to comment for this story. The office of Mayor-Elect Todd Gloria did not respond to requests for comment. A new slate of councilmembers will be sworn in on Dec. 10.

Funding Nonprofits

Many nonprofit organizations benefit from city funding through various departments, and nonprofits can apply for more than one grant from the city. In the last fiscal year, 54 groups were awarded $1.4 million from the Creative Communities San Diego. More than 100 organizations received $10 million from the Organizational Support Program and the Economic Development Department awarded 156 nonprofits.

City councilmembers have also awarded hundreds of thousands of dollars through the Arts, Culture and Community Festivals Funding Program and Community Projects, Programs and Services Funding Program.

The grants that have been awarded to nonprofits have made huge impacts in the city, said nonprofit leaders. They also contribute to San Diego's arts and culture industry, which economists said was a $1 billion industry before COVID-19.

Kiran Shelat, who currently leads Classic 4 Kids, a charity that provides musical education to children in low-income communities, has worked in the nonprofit sector for years but this year has been especially "rough."

Shelat said Classic 4 Kids went from receiving $40,000 in funding in 2017 from the city of San Diego to $18,000 this year. The funding, she said, meant fewer children were able to benefit from the educational programs offered by the nonprofit.

"This is a big loss for San Diego," she said. "The goal of Classic 4 Kids is to make sure students are surrounded by other cultures and learn about different genres of music. This cut [in funding] means a lack in their education."
‍

At Guitars in the Classroom, a nonprofit in Mission Valley that provides free music leadership classes to educators, cuts to funding would mean a less robust musical education program for San Diego students.

Jessica Baron, founder and executive director, said that in 2019, the nonprofit received more than $27,000 in funding across different departments at the City. Funding from the City Councilmembers' discretionary funds has specifically paid for teaching artists to go into classrooms to work with children.

"I would hesitate to be critical of the City because the City is only struggling because we're in a pandemic," she said. "If we can't supply our services to teachers, they will still teach through music because they are strong and they are courageous but the music implementation will be less powerful without having an expert teaching artist to provide support."

Gail Wingfield, development director for Guitars in the Classroom, said the nonprofit's programs have been particularly powerful during this time of remote learning. She said teachers have used their musical tools to engage students.

"The thing about our program is that it has a huge impact on both the classroom teachers and the students they teach," she said. "The teachers have discovered that music engages students in their distance learning, which in turn helps their memory and their learning. It has created a very strong foundation for the children and it sets them up for long-term success."

Back at Moxie Theatre, executive director Thorn said the nonprofit typically receives $40,000 to $50,000 per year from the city of San Diego. The theatre runs on a shoestring operational budget of $350,000, which pays Thorn's salary as a full-time employee and four part-time staffers. A cut in funding would mean a cut to staff and services, Thorn said.

"Losing one staff member would be detrimental to us," she said. "It would be like losing an entire department."

Thorn said the cuts would also hurt the demographics they serve — working-class San Diegans who pay $15 a ticket to see a Moxie production.

"Our audiences aren't working right now," she said. "What will happen to our dedicated audience? Or the many women who have seen their careers launched at Moxie? There will be this big hole in San Diego that is much more than our general mission."

Fields, who saw her acting career begin at Moxie, said she hopes elected officials see the importance of funding arts programs.

"It takes a village to raise a child … it takes a village to raise a village," she said. "Moxie showed me how empowering it is to use my voice and my talent to tell stories of other women. They showed me how powerful it is to be a Black woman in this industry. Without Moxie, I wouldn't be the strong actress I am today."