What's Even Scarier Than SeaWorld's Spooktacular? A San Diego Without the Marine Park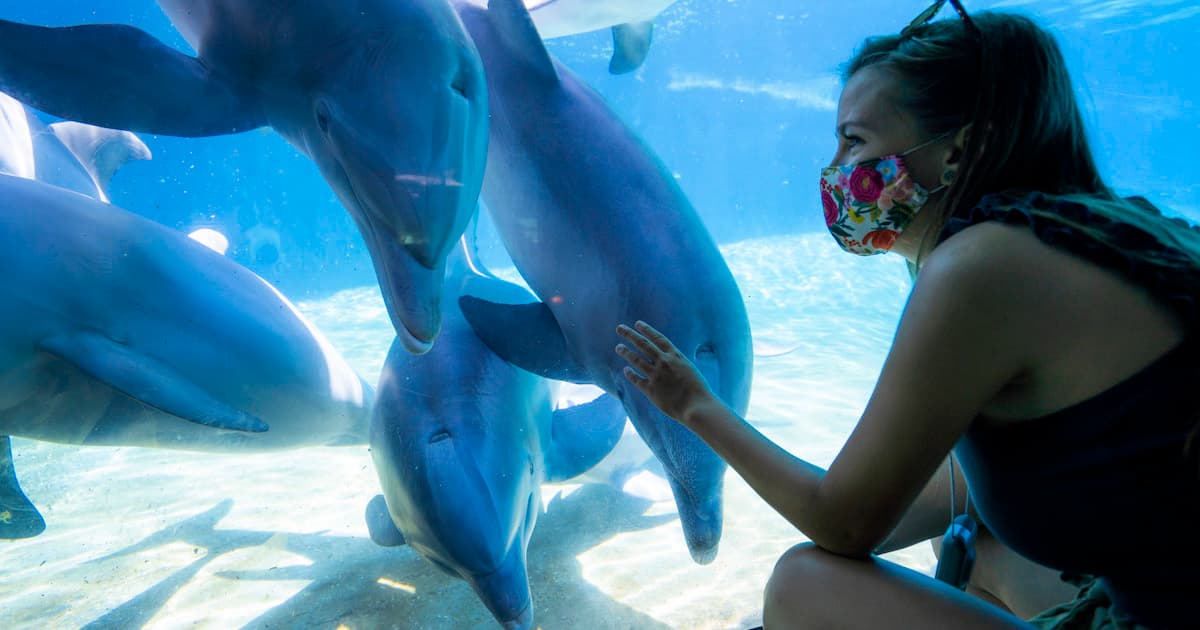 Created: 28 October, 2020
●
Updated:
14 August, 2022
Her son's third birthday party and his preschool field trip, those are the SeaWorld memories Anna M. holds dear. As a season passholder, she gushed about how fortunate children in San Diego are to get exposure to animals up close between the Zoo and SeaWorld.
"They aren't just reading about them in a book or watching them on TV. My son has seen a real-life manatee. I didn't know what a manatee was at his age!" said Anna, who preferred not to disclose her full name to protect her privacy.
The conversation shifted when asked if her family would be going back to SeaWorld since it reopened in August for limited operations under state pandemic guidelines governing zoos.
"Having less people in the park, more handwashing stations, is not enough to make me feel confident in going to a place like SeaWorld right now," Anna said, admittedly more cautious than many families she knows. "I don't think any of those measures are necessarily helping with my comfort level."
This sentiment was echoed by Alan Gin, a professor of economics at the University of San Diego.
"The only light at the end of the tunnel will come when the virus is dealt with," he said. "We need to get people back to the point where they feel comfortable doing things that they normally do – flying again, going to theaters, eating in restaurants, and going to places where thousands of people gather like amusement parks."
SeaWorld Entertainment reported record attendance and revenue in January and February of this year. Then enter COVID-19 and the shutdown of the company's 12 parks. The Orlando-based company's revenue and attendance plummeted 96% during the second quarter contributing to a net loss of $131 million, according to SeaWorld Entertainment's most recent earnings report. Its third quarter earnings will be announced on Nov. 4.
‍

First Jobs
The flashes of humanity often missing from this grim narrative is how much San Diego relies on SeaWorld to be open. If you mention SeaWorld to people who grew up in San Diego, chances are they or someone they know worked at the marine park. SeaWorld San Diego employed as many as 4,000 people during its peak summer season in 2018, according to the San Diego Union-Tribune. Mark Cafferty, president and CEO of the San Diego Regional Economic Development Corporation, said he thinks no employer in San Diego has provided as many young people, especially people of color, with their first jobs as SeaWorld.

"People may say those are lower income service jobs, but those are critical first jobs for young people, period – regardless of background," Cafferty explained.

Lynn Reaser, chief economist at Point Loma Nazarene University, said SeaWorld's closure underscores the losses that have devastated San Diego's tourist sector since COVID-19.

"Before the pandemic struck, tourism accounted for more than one out of every eight jobs in the region," she said in an email. "Through August, the sector, which includes entertainment, the arts, hotels, and restaurants, had shed nearly 50,000 jobs, a drop of 25%."

Reaser went on to explain "restrictions on major amusement parts, such as SeaWorld, has contributed to a loss of 12,000 jobs in the area of amusement parks and gaming facilities, an astounding drop of 41%."

SeaWorld Entertainment furloughed 90% of its workforce in late March. The company then disclosed in a Sept. 4 filing with the U.S. Securities and Exchange Commission an unspecified number of those employees would become permanent layoffs. While difficult to determine exactly how many workers are being let go, the SEC filing indicated the company expects to pay $2.5 million to $3 million in severance.

Gin said he worries about the people who lost their jobs in leisure and hospitality.

"I think a large proportion of them are in the lower income areas, so they probably rent as opposed to own their homes. They're probably under a lot of stress right now. We have an eviction moratorium so that's keeping them from being evicted, but the worry is they have accumulated so much debt in terms of rent owed that could have a definite effect on the future economy," he said.

San Diego Banks on SeaWorld's Success
SeaWorld doesn't own the 190 acres in Mission Bay it calls home. The city is its landlord. SeaWorld submits a percentage monthly rent to the city based on incoming revenue tied to strings of income such as admissions, parking, and concessions. That means the busier the park, the more money the city nets.

These days, SeaWorld can't even pay rent. It has an annual minimum rent requirement of $10.4 million and has only paid $495,379 this calendar year, according to a city official. In 2019, the marine park paid the city $10.6 million in rent. Lease revenue from SeaWorld, and other neighboring lessees, goes to improvements of assets around Mission Bay such as parks and the boardwalk, according to a city budget analyst.

SeaWorld elected to evoke protection rights under the eviction moratorium from April through September. The marine park has not yet communicated plans to make up missed rent payments now that it's reopened as a zoo, a city spokesperson said.

SeaWorld must also provide an educational program for elementary school students as part of its city lease agreement. Last year, 75,237 students, chaperones, and teachers participated, according to a 2019 audit. SeaWorld charged $6.50 per person and accrued a loss of $19,084 after payroll and other expenses. The educational program, resident and day camps are currently on pause, according to SeaWorld's website.

"The whole idea of why SeaWorld and The Hubbs Research Institute was created is to teach people about the ocean," Cafferty said. "While my sons love climbing on rope contraptions and running around, they still stop, see, and pet small sharks. When they're in class and people ask, have you ever seen this type of a shark, they will say yes."

Prior to COVID-19, the San Diego Regional Economic Development Corporation held six of its annual dinners at SeaWorld San Diego. Cafferty explained when the "Blackfish" documentary and negativity was coming SeaWorld's way, the EDC chose the marine park as its event venue to send a really strong message of support because of its integral role in the community.
‍

SeaWorld's Survival
Large California theme parks received word on Oct. 20 from state health officials they will remain closed for months to come until home county coronavirus infection rates drop substantially.

Erin Guerrero, executive director of the California Attractions and Parks Association, did not mince words in an official statement responding to the guidelines calling them "unfair and unreasonable."

"This plan prolongs unemployment for tens of thousands of people, hastens bankruptcy for families and small business owners adjacent to parks, and contributes to insolvency for local governments whose budgets rely on parks as an anchor economic driver," Guerrero said.

SeaWorld has been in the unique position to partially reopen as a licensed and accredited zoo. Some indoor attractions such as the Shark Encounter, Turtle Reef, and Wild Arctic are operating at 25 percent capacity. However, the brakes are on rides and roller coasters until COVID-19 cases slow. San Diego County currently clings to the Red Tier, indicating substantial outbreaks, according to health officials.

While a spokesperson for SeaWorld declined to comment for this story, it seems the marine park is doing what it can to survive in the most challenging environment. The company emailed a survey to passholders on Oct. 23 asking what it can do to make the park safer. Its annual "Spooktacular" Halloween festivities are underway under limited capacity on weekend evenings through Nov. 1. The marine park announced an upcoming Christmas celebration beginning Nov. 13.

"A saving grace for them right now in this horrible chapter that we're all living through is the overwhelming majority of SeaWorld activities are outside, " Cafferty said. "Unlike other theme parks that rely very heavily on drawing you into rides and venues where you're inside, almost everything you do at SeaWorld is outside."

Cafferty believes every step the marine park takes toward recovery is an important one.

"The ripple effect it has for small restaurants, hotels, and businesses in the area is critical because so many of them are in those locations solely because they have a connection to SeaWorld," he said. "The tourism recovery is going to be so challenging and so slow. I'm really hoping that SeaWorld being open can give a boost to some of the other folks around them."

Anna said she and her family will be back at SeaWorld as soon as they have a working vaccine in their arms.

"I want to use the touch tanks and be able to pack in next to strangers on a ride where our arms are touching and we're not freaked out by it," she said.