What Comes After the Election? Religious Freedom or Gay Rights?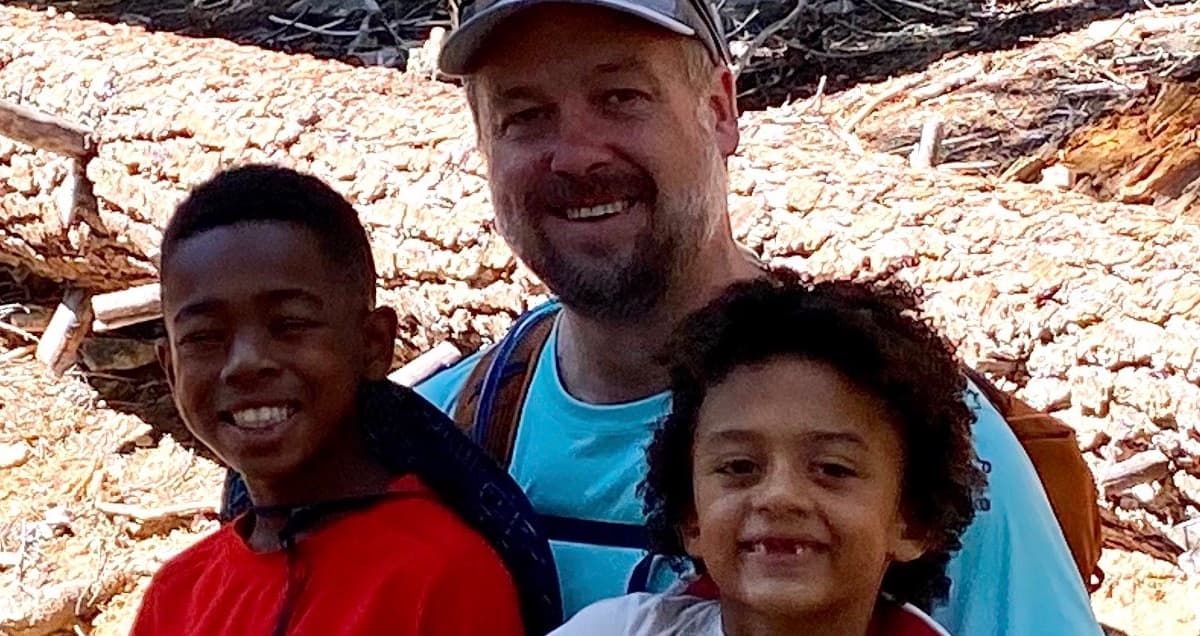 Created: 04 November, 2020
●
Updated:
14 August, 2022
Dave Gatzke vividly remembers the Friday afternoon he and his husband, Tony, drove up from San Diego to Cedars Sinai, walked into the nursery, and held their son, Ethan, for the first time. Three years later, they were in the delivery room when their daughter Evelyn "Evie" was born.
"The whole process of adoption can be a little impersonal and dehumanizing, for very valid reasons – to make sure children are being placed safely in a loving home, regardless of sexual orientation," Gatzke shared. "Any family going through that has to feel a little bit guarded, but then to have the concerns of a same-sex couple and potential discrimination layered on top of that probably led to more anxiety."
Yet Gatzke feels very fortunate. "Both of the agencies we worked with were very supportive and had a lot of experience with same-sex couples," said Gatzke. "We've been heartened in the support that we received from other families as we've navigated our kids through school and the community."
Gatzke said they've chosen where they live carefully because of "who our family is" and are lucky to be in California.

"I really respect and know that the country is founded on religious freedom and think that's critically important," Gatzke said with conviction. "The issue on Nov. 4 is when the state delegates some of its responsibilities. The role the state plays in facilitating and managing adoption needs to be done without discrimination and without influence of religious morals."
Gatzke is referring to the U.S. Supreme Court case, Fulton v. city of Philadelphia, that flew much farther under the radar than it should have because of the presidential election. Oral arguments will be heard Wednesday on whether taxpayer-funded private agencies, such as foster care and adoption providers, can deny services to people who are LGBTQ and others under the First Amendment for religious exercise.
'It Hurts'

San Diego Councilmember Chris Ward, a Democrat who could be the next assemblymember to represent California's 78th District, and his partner, Thom, are the proud parents of 6-year-old Betty and 2-year-old Billy. He said he feels fortunate to live in California where state laws that govern agencies are very strong.
"We chose an adoption agency that was at the forefront of rights for LGBT parents. They had been inclusive since the 1980s when it was probably even less accepted," Ward said. "That was how firmly they believed in their mission that prospective parents should be allowed to adopt, regardless of race, gender, sexual orientation, national origin, or any facet of who they are."
Ward recounted some instances while traveling with his then-newborn daughter where strangers looked and said, "Where's the mother?" or "I can't believe that a mother would give a child to two men." While hard to hear, he responded with education and humanity – hopeful those personal interactions can change hearts and minds.
Ward said it "hurts" when people harken back to myths and misunderstandings that somehow LGBTQ parents are lesser than and unable to care for and raise healthy children. Children of gay or lesbian parents fare as well as children of different-sex parents and are just as healthy, both emotionally and physically, according to Center for American Progress (CAP) analysis. UCLA research determined same-sex couples are seven times more likely to raise foster and adoptive children than their different-sex counterparts. They are also more likely to adopt older children and children with special needs as outlined in the CAP report.
"We really need to make sure that our laws and our decisions are based on the facts and not religious-oriented myths, because at the end of the day, it is those families who suffer and children who suffer because the lack of equality and access to these services would be denied," Ward said.
Senate President pro Tempore Toni G. Atkins (D-San Diego) also shared her worries about the case.

"Like others who have spent their lives working to uphold equality for all—including LGBTQ rights, and racial, social and economic justice—I am concerned about the outcome of this case, especially given the current makeup of the Supreme Court," Atkins said. "No one should be denied services, resources, or access because of who they love or their beliefs. All families, LGBTQ or otherwise, should be afforded our respect, as well as our admiration, for providing love and care to a child in need of a safe and supportive home."
Fight Over Faith and Foster Parents
What's at stake in Fulton v. city of Philadelphia is the welfare of children and families, as well as the ability of governments to enforce nondiscrimination protections broadly according to LGBTQ advocates. It's of especially grave concern to marginalized groups after Amy Coney Barrett's confirmation to the Supreme Court and the 6-3 conservative supermajority of justices.
Julie Greenberg, professor emeritus at Thomas Jefferson School of Law, said the effect on the LGBTQ community is going to be profound from an election standpoint and what's decided in this case. "There are enough justices on the court now that we may see an unraveling of protections that have been accruing over the years to bring the LGBTQ community to equality," Greenberg said.
The case arose in March 2018 when Catholic Social Services sued the city of Philadelphia for ending its contract with them after learning the agency refused to place foster children with same-sex couples who wanted to become foster parents. Catholic Social Services lost in the trial court and appellate court and appealed the case to the United States Supreme Court.
Greenberg said the effects of the ruling will depend not only on the decision, but how the court frames its opinion. If the court sides with Catholic Social Services, LGBTQ advocates fear it could allow other religious and possibly non-religiously affiliated organizations to refuse to provide services to members of the LGBT community. If the court rules in favor of the city, religious organizations and religious individuals will be required to comply with anti-discrimination laws even if it violates their religious tenets.
"The court could choose to balance the rights of the LGBT community to be free from discrimination against the rights of the religious objector and determine that discrimination in the name of religious beliefs is acceptable," said Greenberg. "Based on Amy Coney Barrett's previous writings she will likely side with the religious claims. Her appointment to the court is going to dramatically affect future decisions."

It will likely be months before we hear a decision, according to Greenberg.
Judge Barrett's Anti-Gay Ties

Coney Barrett, a mother of seven children including two who are adopted, served on the board of private Christian schools that wouldn't admit children with same-sex parents or allow openly gay teachers, according to the Associated Press. In Senate Judiciary Committee hearings, Coney Barrett used the term "sexual preference" when discussing Obergefell v. Hodges, the case that granted same-sex couples marriage rights.
Ward summarized his feelings about Justice Barrett frankly, "We all have good reason to be fearful that her personal beliefs will very much cloud the decisions that she renders. The problem is that those decisions become the interpreted law of the land."

"I'm afraid that we are losing some of what makes America great, which is the diversity of its people. We used to call it the melting pot," said Gatzke. "I'm afraid that if we make decisions that stifle that discourse and stifle that interaction of people who are different or may not agree with each other, then it's really to the detriment of the strength of our country."

Ward urged people to not lose hope, especially after expansion over the last few decades of openly LGBTQ parents.
"Fortunately, here in California and many states across our country, there will still be pathways available for individuals and couples to be able to choose adoption – if that is the right path for expanding their family," said Ward. "It's just that these kinds of lawsuits, these kinds of decisions, will likely narrow in scope the doors available from which to pursue adoption or other family-related services."