San Diego, Calif.- At long last we appear to have a Mission Valley solution.
Now, let the negotiations begin.
After a bruising campaign that lasted nearly two years, it appears voters have decided to move forward with the SDSU West plan Measure G, for Mission Valley.
With 72% of precincts reporting SDSU West is at 54.86%.
The opposing measure, SoccerCity, only received 29% of the vote.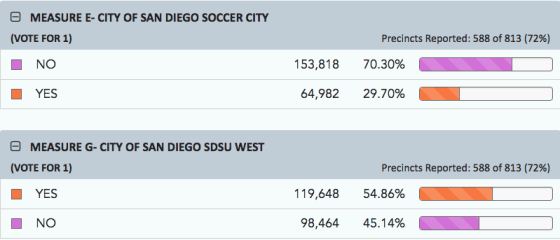 SDSU West Backers Celebrate
SDSU West backers celebrated the early returns at the US Grant.
Campaign director Tom Shepard said, "This has been a long campaign and a victory like this wouldn't be possible without the tremendous volunteers and campaign staff that we have assembled. The finest I've had the pleasure to work with."
Former city manager Jack McGrory and campaign spokesman Fred Pierce then took the stage.  McGrory noted, " They (SoccerCity) were trying to force a special election through City Council. We decided, instead of just opposing them, we would do our own initiative, and we would try to build the biggest network and coalition to support this. And we got every major endorsement in this town."
What's Next?
If Measure G is adopted, the city's municipal code will be changed so the city can sell the land to the university.
Mayor Faulconer, a vocal supporter of SoccerCity, will be responsible for negotiating the sale price and terms, with any deal first requiring an environmental review and city council approval. A city council which now has a 6-3 veto proof majority as District 2 incumbent Lorie Zapf lost to Democrat Dr. Jen Campbell.
The length of the negotiating process is unknown and could take years.
California voters have never forced a land negotiation of this kind, as noted by the City Attorney Mara Elliott, who sued unsuccessfully on behalf of the city to remove both measures from the ballot. It is possible, that lawsuits will be coming, both by the City Attorney and independent parties.
SoccerCity Somber
After spending millions and millions on consultants and attorneys, FS Investors' Nick Stone addressed SoccerCity supporters at East Village Tavern and Bowl following the first drop of numbers from the County Registrar.
Gracious in defeat, Stone thanked the crowd for their support, "I've got to be honest, there were a lot of highs, and a lot of lows.  There have been literally thousands of you who have volunteered and stuck with us for the course of the past 21 months. For that, from the very bottom of my heart, all I can say is, thank you."
Barbara Bry Big Winner?
Politically, the big winner in the Mission Valley derby could be City Councilmember Pro Tem Barbara Bry. I spoke with Bry at the US Grant and she was quick to tell me, "I'm so pleased. I was the first City Councilmember to publicly support SDSU West and I'm proud of what the campaign achieved."
Bry has been a rumored contender for the mayor's race in 2020, and she could certainly use the SDSU West win as a signature achievement in a campaign.
Midterm recap with UT Columnist Michael Smolens: