San Diego, CA.- PocketChange is a virtual button that attaches to your Facebook feed and allows you to take action when you're inspired.
The creators believe their program is the simplest, most powerful platform for bringing "change" to the people when and where they need it most.
The program selects the most responsible charity in the area impacted & instantly lets you micro-give $0.25 to $2 to that charity.
IVN is pleased to be selected out of 35,000 organizations to partner with PocketChange.
Ease of Use
It's simple to implement. I gave it a quick whirl, and within a minute the button appeared on my page.
Just go to get-pocketchange.com, download the extension, and the program does the rest.
Once you open your Facebook account, PocketChange should appear as it does on the screenshot below.
If something in your news feed impacts you or a loved one, click the button and donate "change" to the charity. The account is connected to your credit card.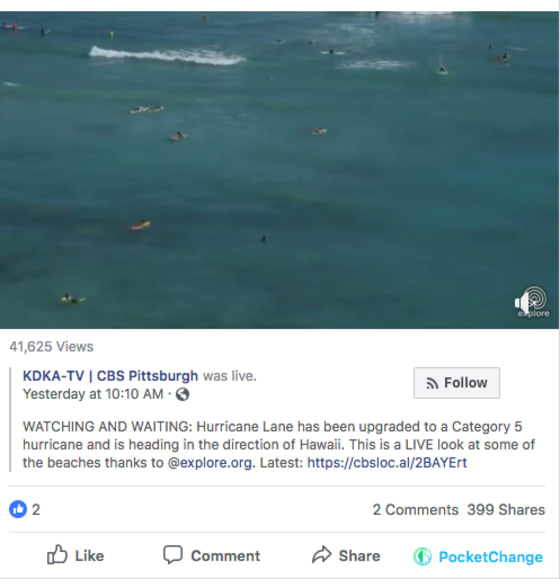 A Conversation With The CEO, Reyn Aubrey
On Privacy Concerns With PocketChange
I asked Aubrey about dealing in sensitive information. Credit cards, identities, all the things that have gone into the new privacy bill in California, I asked Aubrey if he was familiar with that bill?
"Of course yes, the biggest thing we do on data is we don't collect anything that isn't necessary and we don't store anything. So, all the credit card information is processed directly through stripe, so it's not on our servers, it's not something that can be hacked, it's not something we have to worry about. Stripe handles that sensitive information. Any personal information, we try not to collect anything so, we use a Facebook program where all the information is stored with Facebook. The last thing we want is to store consumers information without their permission."
On Working With Facebook
"We actually don't work with Facebook at all. We're essentially a browser extension so it downloads to your computer and overlays the button onto your Facebook but it doesn't have to interact with Facebook. The good thing about that is we don't have to worry about getting shutdown or any issues coming up, not that their would be, but we don't have to associate with the very questionable decision making around data that they've done, and we also more importantly expand to other news consumer sites, twitter, New York Times, YouTube, you can access PocketChange and do something about causes you care about."