As reported by the Wall Street Journal, Facebook has asked large US banks to allow it access to detailed customer data. The social media giant claims the talks were aimed at offering new features with the information. Facebook's stock price may have popped 3% on the news, with investors impressed by new developments in its business model, but it has not been well received by data privacy advocates or by lawmakers, and it is sure to increase chatter over the company on Capitol Hill. Congressional chatter may not be what Facebook needs right now.
According to a new report from Quorum, a legislative analytics startup, Facebook tops the list of Fortune 100 companies mentioned most by Congress over the past nine years. The word was said 14,016 times. The information was pulled from congressional press releases, floor statements, and social media posts.  A worrying feature of the list is that many of its 15 companies are hotbeds of data theft, manipulation, or mishandling.
Tech Just Can't Get A Break
Facebook is still under fire for its role in fake news output throughout the 2016 presidential election, the harvesting of up to 87 million user's information by data analytics firm Cambridge Analytica, and it's handling of data in general. After CEO Mark Zuckerberg was hauled before Congress twice in April over user data protection, Facebook issued a disaster of a quarterly report and suffered the largest single-day drop in market value in US stock market history. Market capitalization fell by $119 billion. It's stock price plummeted by 19 points. So the scramble is on to mend relationships with lawmakers, and offer new things - things like bank services. Facebook says in its recent conversations with the banks it was simply exploring options  for "opt-in" services.
In second place on the list, with more than half the mentions is Google parent company Alphabet, mentioned 5,938  times. Google itself appeared alongside Facebook before the Senate Committee on Commerce, Science and Transportation in January at a hearing titled "Terrorism and Social Media: Is Big Tech Doing Enough?"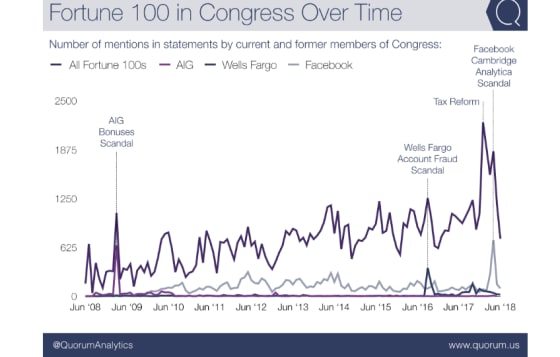 And it has just been summoned to the Hill yet again, along with Apple (sixth on the list) "to probe the companies' representation of third-party access to consumer data, and the collection and use of audio recording data as well as location information via iPhone and Android devices," according to Greg Walden (R-OR), Chairman of the Energy and Commerce Committee.
Banks Play With Data  And Get Mentioned
Wells Fargo maintains a unique 11th spot on Quorum's chatter list because of it also among the large US banks that Facebook recently met with. The banking giant has quite the history with data. Former Wells Fargo CEO John Stumpf testified before Congress last year over a massive fake accounts scandal. Company policy incentivized employees to create fictitious accounts and it fired whistleblowers who pushed back against the practice. But then customers, around 3.5 million of them, noticed fraudulent charges and fees, as well as unexpected lines of credit, debit cards, and insurance policies. But that's just the beginning! Reuters broke the story last week of a computer glitch which led to 625 qualified customers either denied or not offered mortgage modifications under a government assistance program for those having trouble making mortgage payments.  In about 400 cases, customer mortgages were ultimately foreclosed.
It is a great idea to measure chatter in Congress. Perhaps it will help voters better understand what is coming down the data-privacy-legislation pipeline, along with what is not. I'd like to ask Quorum to issue a quarterly update.
Full list:
Facebook (mentioned 6,861 times by Democrats and 7,155 times by Republicans)
Alphabet (mentioned 3,011 times by Democrats and 2,927 times by Republicans)
Ford (mentioned 2,009 times by Democrats and 1.951 times by Republicans)
Boeing (mentioned 1,307 times by Democrats and 2,043 times by Republicans)
General Motors (mentioned 1,722 times by Democrats and 1,499 times by Republicans)
Apple (mentioned 1,017 times by Democrats and 1,264 times by Republicans)
Walmart (mentioned 976 times by Democrats and 1,265 times by Republicans)
ExxonMobil (mentioned 1,767 times by Democrats and 443 times by Republicans)
Fannie Mae (mentioned 811 times by Democrats and 1,372 times by Republicans)
Freddie Mac (mentioned 801 times by Democrats and 1,316 times by Republicans)
Wells Fargo (mentioned 1,422 times by Democrats and 414 times by Republicans)
UPS (mentioned 743 times by Democrats and 1,095 times by Republicans)
Verizon (mentioned 1,095 times by Democrats and 721 times by Republicans)
Amazon (mentioned 959 times by Democrats and 815 times by Republicans)
AIG (mentioned 771 times by Democrats and 767 times by Republicans)