The battle over data privacy is heating up in California as opposition to a data privacy measure is growing.
AT&T, Google and Facebook are leading the opposition to the California Consumer Privacy Act.
"DON'T DISCONNECT CALIFORNIA"
A release sent by the Committee to Protect California Jobs and sponsored by the California Chamber of Commerce shows the group has added support from the Silicon Valley Leadership Group and California Life and Health Insurance Companies.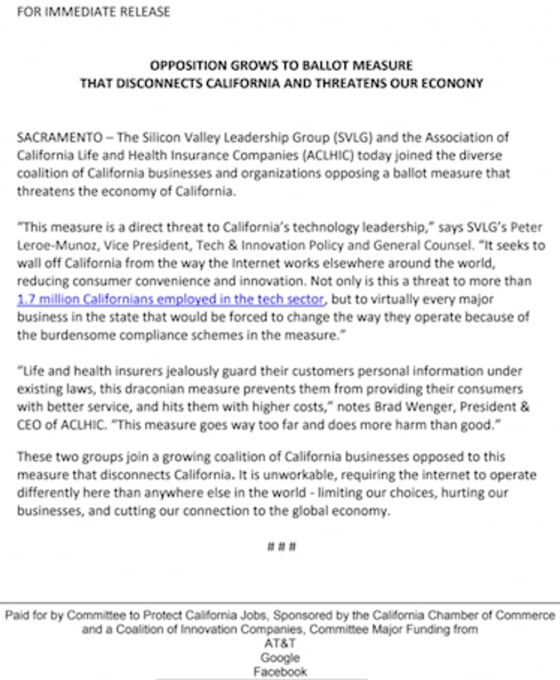 In the release, the Silicon Valley Leadership Group (SVLG) and the Association of California Life and Health Insurance Companies (ACLHIC) write the Privacy Act "threatens the economy of California."
SVLG's VP Peter Leroe-Munoz says, "This measure is a direct threat to California's technology leadership. It seeks to wall off California from the way the internet works elsewhere around the world, reducing consumer convenience and innovation. Not only is this a threat to more than 1.7 million Californians employed in the tech sector, but to virtually every major business in the state that would be forced to change the way they operate because of the burdensome compliance schemes in the measure."
Life and Health Insurance Groups Oppose
Brad Wenger, President and CEO of the Association of California Life and Health Insurance Companies (ACLHIC) says, "Life and health insurers jealousy guard their customers personal information under existing laws. this draconian measure prevents them from providing their consumers with better service, and hits them with higher costs. This measure goes way too far and does more harm than good."
'Don't Disconnect California' clarifies Facebook Contribution
Although they appear on the news release, Facebook, according to a spokesman with Don't Disconnect California told IVN San Diego, "That's the required FPPC disclosure, not who's supporting the campaign. They donated $200,000 and then after the hearings announced they were no longer going to be part of the campaign."
Facebook released the following statement on the measure, "We took this step in order to focus our efforts on supporting reasonable privacy measures in California. We do think the initiative is flawed and hope the Legislature will work out a strong solution to provide consumers the right to know what information is being collected and the ability to decide whether their information may be sold."
'Don't Disconnect California' on Twitter
https://twitter.com/DntDisconnectCA/status/989904280508219392