The FCC's net neutrality decision Thursday sent the online community in an uproar. Much of the visible response was outrage over the vote to scrap 2015 regulations that many think were necessary to secure a free and open internet.
Time will tell exactly what comes out of the decision. Lawsuits are being filed to challenge it, and individual states will move to enact their own net neutrality rules.
Netflix is one of many major content providers that opposes Thursday's FCC vote. The 2015 regulations were put in place to ensure ISPs treated all data delivered to companies equally. Opponents of removing these rules fear that ISPs will create multi-tier pricing systems that offer faster content, and throttle or block content for companies that pay more.
Charlie Kirk, founder and executive director of the conservative-leaning 501(c)(3) Turning Point USA, suggests Netflix's stance is hypocritical, considering its own pricing plan for subscribers.
https://twitter.com/charliekirk11/status/941626940439650307
Netflix offers 3 subscription plans: Basic at $7.99/month, Standard at $10.99/month, and Premium at $13.99/month.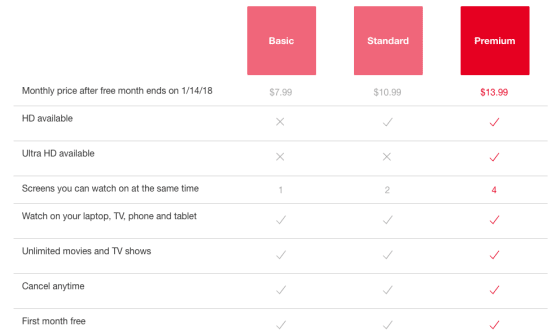 Unlimited movies and TV shows and the ability to watch Netflix on any device comes with all of the plans.
The difference between the plans specifically deals with how many screens customers can watch Netflix on at the same time and the quality of the content. Want HD? Customers need to pay more for that. Want Ultra HD? Gotta pay even more for that.
Proponents of the FCC's decision, like Kirk, believe Netflix is hypocritical to say ISPs can't treat the quality of online content differently when it is doing just that.
Opponents of the FCC's decision argue that Kirk is looking at this completely wrong:
https://twitter.com/akammusic9995/status/941640911532056576
What do you think? Is Netflix being hypocritical? Or is this argument way off base?
Photo Credit: sitthiphong / shutterstock.com