The focus of the Russia investigation this week is on Donald Trump Jr, Jared Kushner, and Paul Manafort. However, another name has been thrown into the ever-expanding Russia narrative: Dr. Jill Stein, former Green Party presidential candidate.
https://twitter.com/DrJillStein/status/888461093718429699
MSNBC Producer Kyle Griffin tweeted out a letter sent by the Senate Judiciary Committee on July 19 requesting all communications between Trump Jr. and a number of other people, including Russia officials, members of Trump's campaign, and -- interestingly enough -- Dr. Jill Stein.
Democratic strategist and Hillary Clinton's director of rapid response in 2016, Zac Petkansas, commented on the tweet, saying, "Man, I can't wait until they expose her." Former Clinton communications director Matt Ortega called out Stein to "release all records you may have related to Donald Trump Jr and Paul Manafort."
Many Democrats, including former members of Hillary Clinton's campaign, are angry with Stein because they believe her inclusion in the 2016 presidential race cost Clinton key states like Michigan and Wisconsin, thus costing her the electoral majority to win the election.
So now Dr. Stein is being thrown into the Russia narrative. However, she is not taking it without a fight, and even got into a Twitter war with establishment Democrats:
https://twitter.com/DrJillStein/status/888463617548529664
To which some Democrats tweeted out this picture: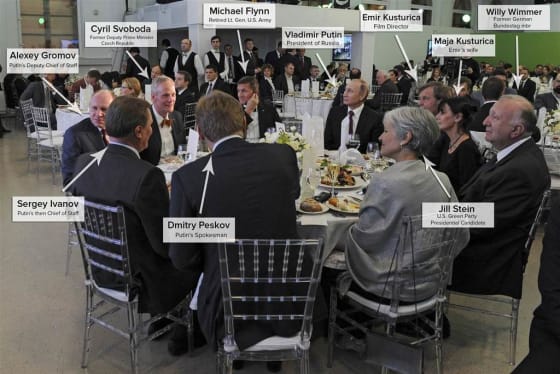 The picture shows Stein sitting down at the same table with, among others, Russia President Vladimir Putin and Michael Flynn, during a banquet dinner in Moscow. Stein has said that she would testify before Congress on her December 2015 trip to Russia, and has never taken money from any Russia entity.
Stein continued to fight back on Twitter:
https://twitter.com/DrJillStein/status/888466162140491777
She countered accusations from Democrats that she was to blame for Donald Trump's election:
https://twitter.com/DrJillStein/status/888468638369431552
She even brought up her thoughts on the true motivations of the Russia narrative:
https://twitter.com/DrJillStein/status/888469907855290369
"If Dem elites want to waste their time with conspiracy theories, that's on them. We're busy organizing a gassroots party for the people," Stein adds.
It not quite clear how deep Stein's inclusion in the Russia investigation will be or what communications Donald Trump Jr could possibly have with the former Green Party presidential candidate.