Over a majority of Americans feel frustrated, helpless, angry, or a combination of the three with the 2016 presidential election, according to a new poll. Further, only 10 percent of respondents have a "great deal" of confidence in the U.S.'s political system.
The new poll from AP-NORC Center for Public Affairs Research found that the 2016 election is more likely to inspire negative feelings among the electorate than positive ones. While 65 percent of respondents said they are interested in the race, 7 in 10 said they feel frustrated, 55 percent said they feel hopeless, and just over half said they feel angry.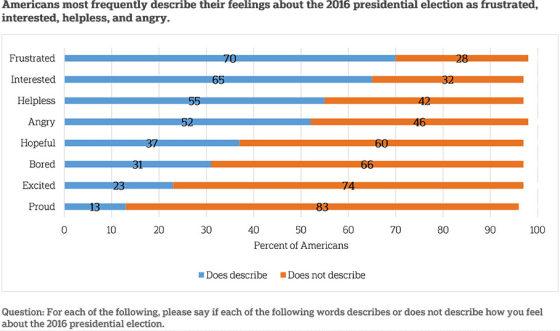 Americans in general do not feel like the Republican and Democratic parties are open to new ideas. Only 17 percent of respondents said the Democratic Party is receptive to new ideas on dealing with the nation's problems, while 14 percent said the party is responsive to the rank-and-file.
The Republican Party does not fare better. Only 10 percent of respondents said the party is open to new ideas, while 8 percent said its leaders listen to the rank-and-file.
Not even party members have confidence in their own party, the results find:
"Only 29 percent of Democrats and just 16 percent of Republicans have a great deal of confidence in their party," reports AP-NORC. "Similarly, 31 percent of Democrats and 17 percent of Republicans have a lot of faith in the fairness of their party's nominating process."
Other key findings from the poll:
"[O]nly 13 percent say the two-party system for presidential elections works, while 38 percent consider it seriously broken. About half (49 percent) say that although the two-party system has real problems, it could still work well with some improvements."
"The public has little confidence in the three branches of government. A quarter (24 percent) say they have a great deal of confidence in the Supreme Court and only 15 percent of Americans say the same of the executive branch. Merely 4 percent of Americans have much faith in Congress.  However, more than half (56 percent) of Americans have a great deal of confidence in the military."
Neither the Republican Party nor Democratic Party are seen as open to outsider candidates, even though Donald Trump is the presumptive GOP nominee, and Bernie Sanders is still in the Democratic presidential contest. Only 9 percent of respondents believe the GOP is open to outside candidates, while only 10 percent believe the same about the Democratic Party.
57 percent of Republican respondents say Donald Trump has had a negative impact on the Republican Party, while 64 percent of Democrats believe Sanders' bid has been good for their party.
Read the full findings of the poll here.